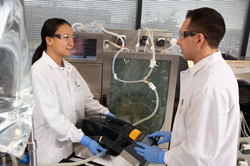 "This award helps us address a critical need for an economical biomanufacturing process capable of generating the EV numbers necessary to meet the demand for clinical doses." - Taby Ahsan, PhD, Senior Director of Development, RoosterBio
FREDERICK, Md. (PRWEB) June 13, 2019
RoosterBio, a regenerative medicine manufacturing technology leader, has received a $300,000 grant from the Maryland Stem Cell Research Commission to facilitate new product development. RoosterBio is one of three Maryland-based companies who received the Maryland Stem Cell Research Fund (MSCRF) Commercialization Program Award totaling $899,990 to assist with the creation of start-up companies or new technologies developed in Maryland.
"We are excited to receive this prestigious award and we'd like to thank the Commission for recognizing the contributions RoosterBio has made to enable rapid clinical and commercial translation for cell, gene and extracellular vesicle therapies," said Margot Connor, CEO, RoosterBio. "We anticipate using this award to hire an additional scientist to further our work in accelerating the road to discovery in regenerative medicine and continuing to position the state of Maryland as a center of expertise in cell therapy manufacturing."
Taby Ahsan, PhD, Senior Director of Development for RoosterBio commented, "There have been over 900 registered clinical trials using mesenchymal stem/stromal cells (MSCs) for therapeutic applications. Due to their similar therapeutic effects to MSCs and potential as a key bioactive agent in regenerative medicine applications, MSC-derived extracellular vesicles (MSC-EVs) are being increasingly investigated as a clinical therapy for a broad range of indications," Dr. Ahsan explained. "This award helps us address a critical need for an economical biomanufacturing process capable of generating the EV numbers necessary to meet the demand for clinical doses. Building on RoosterBio's expertise in commercialization of scalable hMSC products, we are developing a new product paradigm for scalable MSC-EV manufacturing in bioreactors and furthering our existing EV product portfolio."
The Maryland Stem Cell Research Commission was established as an independent unit within the Maryland Technology Development Corporation (TEDCO) by the governor and the Maryland General Assembly through the Maryland Stem Cell Research Act of 2006 to support cutting-edge research and accelerate cures through the MSCRF. In a news release last month, Dr. Amritha Jaishankar, Associate Director of MSCRF said, "These awards reflect our commitment to identifying and fostering cutting-edge research and innovation in the field of regenerative medicine in Maryland. With these awards, we continue to expand our reach welcoming the most promising new faculty, institutes and companies into our community and we continue to accelerate discoveries and cures in a wide range of disease areas including neurodevelopmental, neurodegenerative, cardiovascular, orthopedic and gastroenterology amongst others."
About RoosterBio, Inc.
RoosterBio, Inc. is a privately held cell manufacturing platform technology company focused on accelerating the development of a sustainable regenerative medicine industry, one customer at a time. RoosterBio's products are high-volume, affordable, and well-characterized adult human mesenchymal stem/stromal cells (hMSCs) paired with highly engineered media systems. RoosterBio has simplified and standardized how stem cells are purchased, expanded, and used in development, leading to marked time and costs savings for customers. RoosterBio's innovative products are ushering in a new era of productivity and standardization into the field, accelerating the road to discovery in Regenerative Medicine. For more information on RoosterBio, please visit http://www.roosterbio.com.