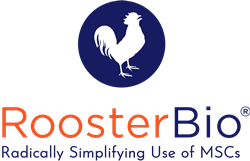 "Collaborating with Geneva and USU is an important milestone as we have filed patent applications to extend the capabilities of our RTP technology globally," said Margot Connor, CEO of RoosterBio
FREDERICK, Md. (PRWEB) September 30, 2020
RoosterBio, a leading supplier of human mesenchymal stem/stromal cell (hMSC) working cell banks and hMSC bioprocess systems, today announces that it has entered into a Cooperative Research and Development Agreement (CRADA) with The Geneva Foundation (Geneva), a non-profit dedicated to advancing military medicine, and the Uniformed Services University of the Health Sciences (USU), an institution of higher learning within the United States Department of Defense (DoD) on behalf of USU's 4 Defense Biotechnology, Biomanufacturing, and Bioprinting Center (4D Bio3). Under the terms of the CRADA, RoosterBio will support biofabrication in austere environments and provide subject matter expertise in Ready to Print (RTP) technologies.
"Collaborating with Geneva and USU is an important milestone as we have filed patent applications to extend the capabilities of our RTP technology globally," said Margot Connor, CEO of RoosterBio. "With this partnership, we aim to show that our cells can support biofabrication in any environment. Our vision is a world where safe and effective regenerative medicines are rapidly developed and are widely available on a global scale, to benefit the lives of patients in need."
Extensive peer-reviewed medical literature has validated RoosterBio's novel technology platform for accelerating regenerative medicine. Most relevant to military medicine is RoosterRTP™ human mesenchymal stem/stromal cells (hMSCs) a first-of-its-kind product designed to radically simplify and standardize the most complex and labor-intensive aspects of bioprinting. RTP allows product developers to thaw and use large quantities of hMSCs, avoiding time-, labor-, and cost intensive cell expansion processes allowing for same day bioprinting capabilities, a critical requirement in forward locations that lack resources typically required for cell culture. Geneva has an agreement with USU to support the development and commercialization of scientific and medical technologies and USU seeks to transfer to technology. The collaboration with RoosterBio will encompass multiple projects with the ultimate objectives of saving the lives of deployed service members and translating the results to civilian care.
"Advances in 3D printing and biofabrication have the potential to provide unprecedented benefits for the warfighter, including perhaps the direct repair or replacement of damaged tissues" said Elise Huszar, President and CEO of The Geneva Foundation. "Resulting military benefits include the potential to drastically reduce traditional supply chain and logistical challenges and costs of transporting medical supplies and related items providing both time and cost savings to the U.S. military in resource-limited settings."
Geneva and USU successfully completed a pilot project involving the biofabrication of medical products and bioprinted tissues in a desert military environment in October 2019 under the federally-funded 4D Bio3 Fabrication in Austere Environments (Fab AE) program. The project supported proof-of-concept demonstrating the feasibility of 3D printing a wide range of personalized health care products in remote geographic locations, notably the 3D print of a meniscus using RoosterBio RTP hMSCs. It was the first demonstration of cyber manufacturing being used whereby complex designs were transmitted to a remote austere location for production. This successful pilot project represented a multi-disciplinary collaboration which included nScrypt and RoosterBio, Inc. nScrypt's bioprinter, called the Austere BioAssembly Tool (ABAT™), is a lightweight and ruggedized bioprinter that was custom designed by nScrypt based on their 3D printer experiences with the BioFabrication Facility (BFF) on the International Space Station (ISS).
RoosterBio will provide guidance and expertise of future RTP technologies, including an upcoming ISS mission under the 4D Bio3 program. RoosterBio will also provide subject matter expertise to expand 4D Bio3 RTP education and training initiatives for graduate students at USU and cadets at the U.S. Military Academy at West Point in advanced technology areas such as RTP Biofabrication and Tissue Engineering in support of the DoD and 4D Bio3 research mission.
About The Geneva Foundation
The Geneva Foundation is a 501(c)3 non-profit organization that advances military medicine through innovative scientific research, exceptional program management, and a dedication to U.S. service members and veterans, their families, and the global community. Geneva is proud to have over 25 years of experience in delivering full spectrum scientific, technical, and program management expertise in the areas of federal grants, federal contracts, industry sponsored clinical trials, and educational services. http://www.genevaUSA.org
About RoosterBio, Inc
RoosterBio, Inc. is a privately held cell manufacturing platform technology company focused on accelerating the development of a sustainable regenerative medicine industry, one customer at a time. RoosterBio's products are high-volume, affordable, and well-characterized adult human mesenchymal stem/stromal cells (hMSCs) paired with highly engineered media systems. RoosterBio has simplified and standardized how stem cells are purchased, expanded, and used in development, leading to marked time and costs savings for customers. RoosterBio's innovative products are ushering in a new era of productivity and standardization into the field, accelerating the road to discovery in Regenerative Medicine. http://www.roosterbio.com