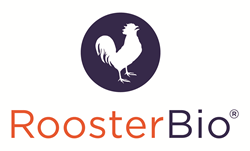 "The regulatory work that we have taken out of our customers' hands demonstrates our dedication to reducing the time it takes to get life-saving regenerative medicine products into the clinic, and onto the market." - Jon A. Rowley, Ph.D., Founder and Chief Product Officer
FREDERICK, Md. (PRWEB) November 13, 2018
RoosterBio Inc, a leading supplier of human Mesenchymal Stem/Stromal Cell (hMSC) working cell banks and hMSC-specific bioprocess systems, announces today it has submitted a U.S. Food and Drug Administration (FDA) Type II Master File (MF) for its CliniControl™ line of cGMP hMSC working cell banks. This MF complements the MF for the CliniControl RoosterNourish™-MSC-CC bioprocess media that was filed in 2017. The MFs contain confidential information on the products including their chemistry, manufacture, and controls. This enables RoosterBio to protect proprietary product information yet allows the FDA to review the information in support of an investigator's submission. Upon request, RoosterBio will grant a customer authorization to cross reference the stated MF(s) to support their own regulatory filing, such as an Investigational New Drug (IND) application to the FDA. INDs are filed with the FDA prior to beginning clinical evaluation of new therapeutic products in human subjects.
"RoosterBio's regulatory filings demonstrate our ongoing commitment to support customers conducting clinical trials using our innovative hMSC systems," said Kathy Williams, Vice President of Quality Assurance and Regulatory Affairs at RoosterBio.
To date, these are the first hMSC products to be commercialized as off-the-shelf, cGMP-compliant hMSC working cell banks and bioprocess media systems with accompanying Master Files. RoosterBio's CliniControl products are designed to radically simplify the process of clinical translation for Regenerative Medicine companies that utilize hMSCs within their manufacturing process.
The use of hMSCs in clinical trials is expanding rapidly. There are currently more than 50 late-stage clinical trials listed at ClinicalTrials.gov involving hMSC therapeutics, and there are several marketed hMSC products worldwide with several more expected to hit the market in the coming years. A 2017 report has estimated the WW stem cell market at more than $5 billion currently with growth to over $9.5 billion by 2025.
"RoosterBio's CliniControl products with accompanying MFs represent a significant company milestone and is a meaningful advancement for the industry. The regulatory work that we have taken out of our customers' hands demonstrates our dedication to reducing the time it takes to get life-saving regenerative medicine products into the clinic, and onto the market," said Jon Rowley, Ph.D., Founder and Chief Product Officer for RoosterBio.
About RoosterBio, Inc.:
RoosterBio, Inc. is a privately held stem cell tools and technology company focused on accelerating the development of a sustainable regenerative medicine industry, one customer at a time. RoosterBio's products are high volume, affordable, and well-characterized adult human mesenchymal stem/stromal cells (hMSCs) paired with highly engineered media systems. RoosterBio has simplified and standardized how stem cells are purchased, expanded, and used in development, leading to marked time and costs savings for customers. RoosterBio's innovative products are ushering in a new era of productivity and standardization into the field, accelerating the road to discovery in Regenerative Medicine. For more information on RoosterBio and adult stem cells, please visit http://www.roosterbio.com, follow on twitter (@RoosterBio), or read the blog "Democratizing Cell Technologies" (http://www.roosterbio.blogspot.com).