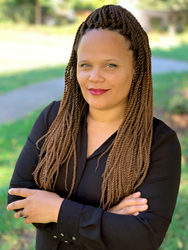 NEW YORK (PRWEB) July 29, 2019
Communication Service for the Deaf, Inc. (CSD) announced today that Rosa Lee Timm, leading marketer and longtime deaf performance artist, has been named CSD's Chief Marketing Officer (CMO). Timm joined the CSD leadership team on July 1.
Timm brings more than 20 years of marketing experience to CSD, including: digital and social media; video and film production; advertising; content development; entertainment; event planning; photography and graphic design. As CMO Timm is responsible for all integrated marketing, creative, public relations and communications at CSD.
"I am pleased to have Rosa Lee join CSD's leadership team—her wealth of marketing expertise and experience in various contexts make her an ideal leader for our newly integrated creative and communications team," said CSD CEO Christopher Soukup. "She brings a new level of engagement to CSD and will do much to advance and elevate awareness in the public sphere of our important work of creating positive social change for deaf people everywhere."
Timm joins CSD from Deaf Counseling, Advocacy & Referral Agency (DCARA), where she has served as Marketing Director and will continue to do so part time. Previously, Rosa Lee worked at the California School for the Deaf where she was a family and infant teacher and also specialized in early childhood education and American Sign Language (ASL) instruction and assessments. Timm also taught ASL as an adjunct professor at Ohlone College; served as managing editor of the digital KISSFIST Magazine; was a family and children specialist at the Massachusetts Commission for the Deaf and Hard of Hearing, a situational assessment specialist at the American School for the Deaf and a counselor at Washington state's Division of Vocational Rehabilitation.
"I am both excited and honored to be joining CSD and its incredible team of leaders," said Timm. "I have witnessed the positive changes CSD has a hand in and know the commitment CSD has to continue its work on behalf of the deaf community. In so many ways, this is my dream job and I look forward to realizing CSD's vision to accelerate social change."
For more than 20 years, Rosa Lee also has had a prominent and successful career as both a model and performance artist where she has been featured in countless stage productions, performance troupes, television shows and videos. She is widely known for her YouTube ASL music videos, her work as a solo performer of The Rosa Lee Show and as a lead actor in ASL Films' feature film Versa Effect.
Rosa Lee attended the Indiana School for the Deaf and later graduated from the Rochester Institute of Technology (RIT) with a bachelor of science degree in social work. In her spare time she continues to travel across the country giving workshops and instruction on the art of ASL music, storytelling and rhythm. Rosa Lee is based in California's Bay Area.
For more information please visit CSD.
Media Contact:
Karen Durkin
The Durkin Agency
karen.durkin@thedurkinagency.com