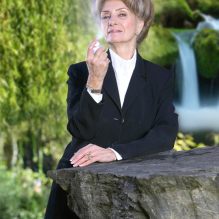 GRANTS PASS, Ore. (PRWEB) October 24, 2019
Date aired: October 21st, 2019
Guest: Rose Hong, Executive Director of Global Dragon TV, Washington, D.C.
Sharon Kleyne's nationally syndicated, The Sharon Kleyne Hour Water Life Science®/Nature's Pharma®, the Power of Water® & Your Lifestyle on VoiceAmerica and World Talk Radio sponsored by Nature's Tears® EyeMist® sponsored by Global Dragon TV in Washington, D.C. welcomed the show's producer, Rose Hong, to talk about water and Kleyne's Health Olympics.
Hong, who also produces and hosts two weekly programs, Global Odyssey and Whole health Living, which reflect her belief in Chinese philosophy and holistic health practices, is a daily user of Kleyne's two signature products for eye and skin care, Nature's Tears® EyeMist® Dry Eye Solution® and Nature's Mist® Face of the Water® for dry skin caused by body water vapor evaporation. Hong also serves on the board of Montero Medical Mission, which provides education and medical outreach by sending U.S. volunteer doctors to locations around the world.
Kleyne, also the founder and research director of Bio-Logic Aqua® Research Water Life Science®, warns that earth's atmosphere is endangered. "When earth's atmosphere is in trouble, human beings are in trouble, too," says Kleyne. An expert on atmospheric and body water evaporation, Kleyne teaches that the planet's atmosphere contains 'the breath of life', which is water. "All living things on earth need the water in the atmosphere to breathe," says Kleyne. "At Bio Logic Aqua® Research, Kleyne continues, "our IP values are focused on one thing: body water evaporation, water loss and what is happening to the water vapor of earth's atmosphere."
Kleyne also teaches that her Health Olympics requires participants to do five things:
1. Drink lots of water, and drink it one full glass at a time. No sipping!
2. Learn how to breathe with the rhythm of the earth.
3. Learn the best diet for you.
4. Get moderate exercise.
5. Get lots of wholesome sleep.
"It's the rhythm of your life that you need to calm down. You need to learn to respect and enjoy it!"
"Everyone needs to reach out and seek knowledge," adds Hong, whose mother was a physician who taught her about traditional Chinese medicine. "Education and learning were always at the center of my family life," Hong said. "When the general public is more educated, they are more empowered."
Hong also lauded Kleyne's talk radio show for consistently bringing on the top research, education and scientific talent from around the world. "We all come to the same conclusions," Hong concluded. "We focus on prevention and fundamentals—water, wholesome foods, proper breathing, exercise and plenty of sleep. If we don't practice these, we'll develop health issues."
*
If you would like to listen to a conversation with Rose Hong, Executive Director of Global Dragon TV and Health Olympics inventor, advocate for new water education and research and international evaporation researcher Sharon Kleyne about water's central role in achieving and sustaining optimum health and longevity, follow this link: https://www.voiceamerica.com/episode/118127/the-miracles-in-healing-qi-and-water