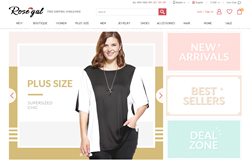 Company dedicated to providing fashion for consumers of all shapes and sizes
Shenzhen, China (PRWEB) September 28, 2016
Rosegal is a fashion e-commerce giant looking to deliver the latest fashion products at an affordable price. The company understands that fashion is often the first way people are judged by those around them and that it is essential to always look nice. The combination of high quality products and cheap prices has helped Rosegal ascend to the top of the fashion E-commerce world. Rosegal now sees traffic from all over the world with millions of users visiting the site every year. The site is known to stock thousands of items, but the company is always looking to add more. Today the company is proud to announce the launch of a new plus sized section. Rosegal understands that different regions of the world can have different body sizes based off genetics and the company is looking to make sure every person can find products suitable for them.
The new plus sized section of Rosegal is now available and is tailored for those needing larger clothes. The new plus sized section will have 5 sub sections, providing an array of different style products for customers. The sections include plus size tops, plus size dresses, plus size swimwear, plus size bottoms, and plus size outerwear. Rosegal is just using this as a starting point for customers and a way to test if demand is there. Unlike other sites that offer plus size sections, Rosegal maintains the same variety standards. Between the 5 sub sections there are 2214 styles of clothing with more being added daily. In subsequent weeks and months Rosegal will also be looking to add more subsections to ensure that every kind of style is accessible, regardless of the person's size.
With the new plus sized section Rosegal understands that there may be confusion about product sizes, to mediate the issue the company is launching an update to its size conversion guide. The new guide will help customers seamlessly convert inches to cm and vice versa. This will ensure that customers do not need to do any calculations themselves and that every measurement is given correctly.
Rosegal is a subsidiary of Globalegrow and based out of Shenzhen China. Like its sister sites Zaful and Sammydress, Rosegal is committed to providing customers with the utmost satisfaction. The new plus sized section is just the beginning and the company invites users to keep checking back to see the newest updates and addons to the site.
Related link:http://www.rosegal.com/
Email: support(at)rosegal(dot)com