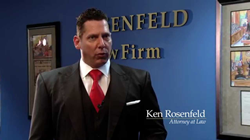 Alpine's staff is in favor of him going to the step-down facility.
SACRAMENTO, Calif. (PRWEB) September 24, 2020
Rosenfeld was responsible for negotiating the plea bargain for Kirkendall in February of 2019 to ensure his client received treatment, rather than life in prison, following the manic episode that led his client to open fire with a shotgun on a Big Sur firefighter in 2017. According to the documents from the Monterey County Superior Court Case # 17cr006035, the plea deal required Kirkendall to spend a minimum of one year at the Alpine Special Treatment Center, a secure mental health facility in San Diego, as part of a 14-year formal probation. In May, the Monterey County Superior Court reached its decision to deny Kirkendall's request to be released to a step-down facility without the input of the Alpine Center's mental health professionals.
"My client's release from Alpine was supposed to be dependent upon approval from both Alpine's medical staff and the superior court," said Rosenfeld. "Alpine's staff is in favor of him going to the step-down facility." (Monterey County Superior Court Case # 17cr006035)
Rosenfeld's petition for the writ of habeas corpus referenced the Alpine Center's recommendation for Kirkendall's release. The appellate court in turn issued an alternative writ of mandamus to the superior court, commanding it either to vacate its previous order and conduct a hearing to reconsider the matter in light of the Alpine Center recommendation before entering a new and different order, or to provide the appellate court an explanation as to why it will not take this action (Monterey County Superior Court Case # 17cr006035).
An accident involving electrocution eight years ago caused permanent damage to areas of Kirkendall's brain, including that responsible for judgment. Rosenfeld said he and Kirkendall's family are "pleased and hopeful" regarding the potential amendment of Kirkendall's sentence (Monterey County Superior Court Case # 17cr006035).
About The Rosenfeld Law Firm
The Rosenfeld Law Firm, located in Sacramento and San Jose, is responsible for the successful defense of multiple high-profile criminal defense cases. California criminal defense attorney Ken Rosenfeld provides aggressive defense for his clients across range of cases, from first-degree murder to driving under the influence (DUI defense), with a specialty in defending sex offense cases. His expertise as a criminal law commentator has led Rosenfeld to make several television and radio appearances as a legal expert, including on a national level.
Mr. Rosenfeld was named 2020 Litigator of the Year by the American Institute of Trial Lawyers. In addition to mental health criminal defense, Rosenfeld's law firm also practices federal criminal defense and juvenile defense, as well as appellate law and prison law. For more information, please contact Ken Rosenfeld directly at (916) 447-2070, or visit http://www.therosenfeldlawfirm.com.
Press release writing by WebSiteText and Proofreading Services by The Proofreaders.