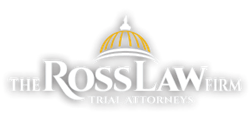 ATLANTA (PRWEB) December 19, 2019
The Ross Law Firm's Atlanta personal injury attorneys have recently launched a brand new website. Users will notice pleasant color schemes that aren't hard on device screens, responsive design, an easy-to-navigate layout, and brand new content that expands upon the law firm's services.
Brian Ross, co-owner of the firm, expressed his thoughts on the new website: "Our old site was dated and hard to navigate. It was difficult for users to find the information that they needed. We wanted to freshen up our current brand as well as provide an online space that showcased our legal services in a way that was easy to access. We're very pleased with the new website and are happy to offer an updated space for clients to learn more about what we do."
Part of the new website launch includes expanded content that sheds more light on The Ross Law Firm's personal injury services. Users can now learn more about the steps they need to take for their specific case with topics including DUI Accidents, Car Accidents, Truck Accidents, and more.
"It can be hard to know what to do next after you've been in an auto-accident," Ross continues, "we're happy to be able to share our information about specific accidents all in one place. We've showcased these services on our homepage so that our clients don't need to go far to find the details that they need."
The Ross Law Firm's new website is live and ready to view right now. To view the site and learn more about the firm, visit: https://www.rosslawfirmga.com/
About The Ross Law Firm
Founders Brian C. Ross and Teresa L. Ross created The Ross Law Firm with the goal in mind of creating a legal firm that is committed to its clients and is determined to get the best possible outcome with each and every case. The legal team at The Ross Law Firm is known for their respect and understanding of their clients, and have won hundreds of thousands of dollars in personal injury claims over the years. The firm's new website launch will help expand upon their capabilities as well as inform new clients of the steps they need to take for their case.