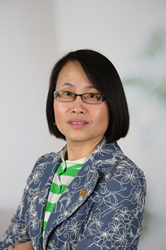 Our study is novel and addresses an understudied area in breast cancer research among this underserved population with the worst prognosis.
BUFFALO, N.Y. (PRWEB) February 17, 2021
A research team headed by Roswell Park Comprehensive Cancer Center epidemiologist Zhihong Gong, PhD, has been awarded a five-year, $1.9 million grant from the National Cancer Institute for an investigation into the role that certain genetic molecules play in the disparities seen between Black people and white people with breast cancer. This project is the latest among many multimillion-dollar grants earned by Roswell Park to focus on addressing race-based cancer health disparities.
Women of African ancestry are more likely than those of European descent to develop aggressive and hard-to-treat breast cancer tumors, such as high-grade, estrogen-receptor-negative (ER-negative) and triple-negative types, and they have poorer prognosis. As the rate of breast cancer increases among Black women, approaching the rate seen in white women, this disproportional burden grows greater.
Dr. Gong's study will focus on a type of genetic molecule known as long noncoding RNAs (lncRNAs) — a newly appreciated class of gene regulators that play a role in cancer genesis and tumor progression.
"We understand that abnormal expression of certain long noncoding RNAs is associated with breast cancer metastasis and cancer cell survival," explains Dr. Gong, Associate Professor of Oncology in Roswell Park's Department of Cancer Prevention and Control. "But studies to date have focused exclusively on white women, and few have used next-generation sequencing technology to provide unbiased and comprehensive profiling."
Dr. Gong and colleagues will look closely at large existing databases of tissue samples and information about tumor characteristics, clinical outcomes, treatments received and lifestyle factors. Using next-generation sequencing technology, the team aims to identify long noncoding RNAs that are associated with aggressive breast cancer types and poor prognosis, and to discover the underlying mechanisms of how these molecules contribute to cancer progression.
"Our study is novel and addresses an understudied area in breast cancer research among this underserved population with the worst prognosis," says Dr. Gong. "We're excited to learn more. It's our hope that our findings will shed light on new tumor markers and the development of targeted preventive and therapeutic strategies for people at high risk for breast cancer."
###
This press release is also available on the Roswell Park website: https://www.roswellpark.org/newsroom/202102-roswell-park-awarded-nearly-2-million-study-cause-racial-disparities-breast-cancer
Roswell Park Comprehensive Cancer Center is a community united by the drive to eliminate cancer's grip on humanity by unlocking its secrets through personalized approaches and unleashing the healing power of hope. Founded by Dr. Roswell Park in 1898, it is the only National Cancer Institute-designated comprehensive cancer center in Upstate New York. Learn more at http://www.roswellpark.org, or contact us at 1-800-ROSWELL (1-800-767-9355) or ASKRoswell@RoswellPark.org.