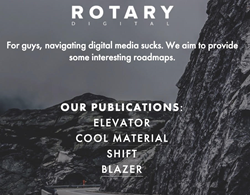 "Our subscribers see us as a trusted voice, so it only makes sense that they trust the sponsored messages we put in front of them." -- Sean Ryan, Co-Founder, Rotary Digital
NEW YORK (PRWEB) April 29, 2021
Rotary Digital – the home of men's email newsletters Elevator, Shift, and Blazer – completed the acquisition of lifestyle publication and digital buyer's guide Cool Material today, bringing its total subscriber count to more than 1.4 million readers. The acquisition underscores the power of newsletters for achieving a mix of influence and reach with sought after demographics.
"When we started Rotary Digital, our goal was to build niche brands that target upscale men. Adding Cool Material was an easy decision," said Rotary Digital co-founder Sean Ryan. "Their audience is young, affluent, high-spending, 100% organic, and has a low duplication with our newsletters."
Ryan and co-founder Tim Jacobsen personally pick timely, positive stories without resorting to news coverage. "Our goal is for the combination of the visuals, articles, and unique editorial spin to make opening the newsletter a joy each day rather than work," said Ryan.
Newsletters offer readers a trusted voice for consumers, and Rotary Digital's assets keep readers current and entertained. Subscribers increasingly turn to such newsletters that meet readers' criteria for the content they want delivered to them, rather than forcing people to wade through gatekeepers such as search engines' and social networks' algorithms. This creates a richer, deeper, and more engaged relationship between the reader and the publisher.
Cool Material gives Rotary Digital's advertisers even more options for reaching affluent males. "Our subscribers see us as a trusted voice, so it only makes sense that they trust the sponsored messages we put in front of them. The performance we see for our advertisers across many categories is proving that out each day," said Ryan.
Rotary Digital will bring on a new editor to create more content for the Cool Material publication. Cool Material will retain its own brand identity and voice, just as Elevator, Shift, and Blazer already do within the Rotary Digital family.
ABOUT ROTARY DIGITAL
Rotary Digital is the home of newsletter brands Elevator, Shift, Blazer, and Cool Material that collectively reach more than 1.4 million unique affluent males every single week. Elevator offers a collection of compelling stories that give you unique things to talk about. Shift is a travel and wellness-themed publication for guys with an adventurous spirit. Blazer is a guide for men who care about how they look. Cool Material is a daily source for gear, articles, and insider info on all the stuff guys want.