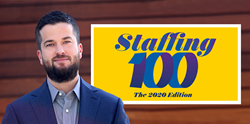 By being elected to the Hall of Fame, Adam is among industry leaders who, according to SIA, "have made a lasting impact on the world of work, taking the staffing industry to great heights as exhibited by their illustrious careers."
ORANGE, Calif. (PRWEB) September 17, 2020
Adam Roth, CEO of Roth Staffing Companies, was named to Staffing Industry Analysts' Staffing 100 Hall of Fame, a list recognizing the most consistently influential individuals in the industry. Adam is one of only seven staffing leaders to be selected for the honor this year.
Over the past several years, Adam has consistently earned a place on Staffing Industry Analysts' (SIA) Staffing 100 list, which honors leaders in the staffing industry. Since 2017, SIA has given special recognition to individuals who have consistently appeared on the list, naming them to their Staffing 100 Hall of Fame. By being elected to the Hall of Fame, Adam is among industry leaders who, according to SIA, "have made a lasting impact on the world of work, taking the staffing industry to great heights as exhibited by their illustrious careers." This is a lifetime honor, meaning Adam will retain his standing in the Hall of Fame in lieu of eligibility for future Staffing 100 lists.
Taking over as CEO of Roth Staffing Companies in 2015, Adam has played a key role in helping his organization grow into the creative industry leader it is today. Operating through five specialized business lines, Roth Staffing has a presence in 20 states and the District of Columbia. The company was not only ranked by SIA as the 39th largest staffing firm in the US, but also earned ClearlyRated's Best of Staffing distinction in both the Client and Talent categories.
Roth Staffing has been recognized, not just for excellence in service, but for an outstanding workplace culture as well. Adam is the architect behind one of the best coworker engagement programs in the industry. The company has been ranked #1 on Fortune's Best Workplaces for Women list in the small businesses category, and on the Best Workplaces for Consulting & Professional Services list.
Another distinguishing factor of Adam's leadership is his dedication to community giving. He acted as chair for the 2018 AHA Heart Walk in Orange County, the most successful OC walk in the event's history. Adam champions a robust volunteer program at Roth Staffing where Coworkers annually receive (and are encouraged/recognized for using) 24 hours of time during the workweek to support their charities of choice.
Adam's business acumen and his passion for focusing on quality rather than quantity helped him win the Gold Stevie for Executive of the Year at the American Business Awards in 2018.
About Roth Staffing Companies
Roth Staffing Companies is one of the largest privately-held staffing firms in the United States, operating from more than 100 locations across 20 states and the District of Columbia. Roth Staffing consists of five specialized business lines: Ultimate Staffing Services for administrative and office positions, Ledgent Finance & Accounting, Ledgent Technology, Adams & Martin Group for legal staffing, and About Talent for workforce solutions.
Roth Staffing Companies has locations in Arizona: Phoenix; California: Brea, Carlsbad, Century City, Cerritos, Costa Mesa, Fremont, Fresno, Fontana, Gardena, Irvine, La Jolla, Los Angeles, Ontario, Oxnard, Pasadena, Pleasanton, Roseville, Sacramento, San Diego, San Francisco, San Jose, Santa Ana, Torrance, Woodland Hills; Colorado: Denver; Connecticut: Hartford, New Haven; Washington D.C.; Florida: Boca Raton, Clearwater, Ft. Lauderdale, Orlando, Tampa, West Palm Beach; Georgia: Atlanta; Maryland: Baltimore, Columbia, Frederick, Rockville, Timonium; Massachusetts: Boston; Michigan: Detroit; Minnesota: Bloomington; Missouri: St. Louis; Nevada: Las Vegas; New Hampshire: Nashua; New Jersey: Paramus; North Carolina: Raleigh; Oregon: Portland; Texas: Austin, Dallas, Houston, San Antonio; Utah: Salt Lake City; Virginia: Arlington.
Visit http://www.rothstaffing.com for more information or call (714) 939-8600.