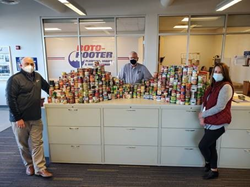 With the ongoing challenges in our community stemming from COVID-19, it's especially important to support our local food banks.
INDIANAPOLIS (PRWEB) December 29, 2020
North America's largest provider of plumbing and drain repair services, Roto-Rooter, is elated to announce the results of their second annual Giving Thanks Food Drive. Each year, Roto-Rooter's work teams and individual employees nationwide compete to collect the greatest number of non-perishable goods. These items are then given to community food banks and pet shelters for distribution.
This year, Roto-Rooter offices from the Midwest region dominated several top spots in the team competition. These results are calculated based on the largest percentage of donations when weighed with their monthly job count. Together, four Midwest branches –– Buffalo (2nd), Cleveland (3rd), Indianapolis (4th), and Dayton (5th) –– collected over 1,500 donated items.
Individual technicians from Midwest branches also performed strongly. Between just three of them –– Bob Warham (2nd, Buffalo), Matt Carlson (3rd, Cleveland), and Jeff Johnson (4th, Indianapolis) –– 984 donations were collected.
"Our Indianapolis office was once again delighted to be a part of this holiday tradition. With the ongoing challenges in our community stemming from COVID-19, it's especially important to support our local food banks.", says Hal Glenn, General Manager. "We are very grateful to all of our customers who donated generously this year."
Top collectors from the Indianapolis branch were Jeff Johnson with 262 items and Vala Bochung with 178 items.
Nationwide, Roto-Rooter's Providence, RI branch and El Paso, TX contractor location collected the largest percentages of donations. Roto-Rooter's corporate headquarters also collected their fair share, bringing in 2,013 items.
Overall, Roto-Rooter teams and individuals collected 52,630 food items, which is 9,000 more cans than last year. To give some additional perspective, this equates to over 49,000 pounds or 24.5 tons of food. This is enough to feed more than 24 adults 3 full meals a day for an entire year.
Since the beginning of the food drive last year, Roto-Rooter has collected more than 96,916 items for local food banks and pet shelters. That amounts to 97,000 pounds (48.5 tons) of food!
To learn more about Roto-Rooter's Giving Thanks Food Drive, visit https://www.rotorooter.com/fooddrive/.
For professional drain and plumbing assistance, call 1-800-GET-ROTO or go to https://www.rotorooter.com/.
About Roto-Rooter:
Roto-Rooter was established in 1935 and is the largest provider of plumbing repair and sewer & drain cleaning services in North America. Roto-Rooter also provides water damage cleanup services in most of its locations. It operates businesses in 130 company-owned territories and approximately 400 franchise territories, serving approximately 91% of the U.S. population and 40% of the Canadian population. Roto-Rooter also has licensed master franchises in the republics of Indonesia and Singapore, and the Philippines. For more information about Roto-Rooter, please visit https://www.rotorooter.com/.