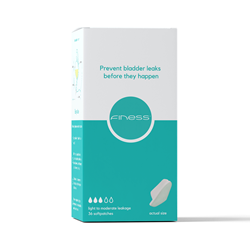 We are thrilled that Target is putting Finess on shelves to offer women a new solution for bladder leaks.
LOS ANGELES (PRWEB) November 10, 2020
Available now in over 800 Target retail locations and nationwide on Target.com, women who experience mild- to-moderate bladder leaks, clinically known as stress urinary incontinence (SUI), can purchase both trial and full-size packs of Finess®.
Finess is a first-of-its-kind, FDA-cleared product designed to stop bladder leaks before they start. Placed over the urethral opening and sealed in place by a gentle hydrogel adhesive, Finess prevents urine from leaking out when increased abdominal pressure is placed on the bladder – while exercising, during a coughing fit, or when sneezing.
This single-use, disposable product eliminates the need for bulky and uncomfortable pads and fits discreetly in a small pocket.
"Women spend over $250 annually on products that don't solve this issue and are willing to spend another $250 to find an alternative solution," says Evi Heilbrunn, CEO of Privy. "We are thrilled that Target is putting Finess on shelves to offer women a new solution for bladder leaks as they walk down, or digitally navigate, the Target femcare aisle this fall."
In 2019, Privy was invited to participate in Target's Takeoff Wellness accelerator program for product-focused startups creating solutions in a number of categories.
About PRIVY
Privy® is the first, women-led, feminine care company developing innovative and clinically proven solutions for women's health issues. Finess, a #BlogHer Health 2019 Pitch Winner, is Privy's first retail product. For more information about Finess, visit havefiness.com. For more information about Privy, visit privywoman.com. For media inquiries, please contact info@privywoman.com.
About Target
Minneapolis-based Target Corporation serves guests at more than 1,800 stores and at Target.com. Since 1946, Target has given 5% of its profit to communities, which today equals millions of dollars a week. For the latest store count or more information, visit Target.com/Pressroom. For a behind-the-scenes look atTarget, visit Target.com/abullseyeview or follow @TargetNews on Twitter.