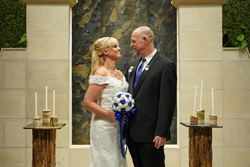 We are humbled and honored to have been able to help these couples with their weddings, just one year after the mass shooting in Las Vegas.
LAS VEGAS (PRWEB) October 03, 2018
This past weekend the entire country braced itself for a one year anniversary that most wanted to forget, when the unthinkable tragedy happened to innocent fans of country music attending the popular Route 91 Harvest music festival. The survivors are now known as a close-knit group of overcomers with miraculous resilience, once strangers who are forever connected. Chapel of the Flowers in Las Vegas was honored to host weddings on September 28 and October 1, helping to create new memories for brave survivors.
The Victorian Chapel on Chapel of the Flowers' one-acre property offered a joyful, traditional setting for Lacey West and Josue Trujillo on Friday, September 28. Lacey was gorgeous in a tea-length lace wedding gown and fingertip veil, carrying a rose bouquet. Her radiant smile as she looked at her handsome groom said more than any words could. Less than one year prior to standing at the altar, Lacey and her mother attended the music fest, running from gunshots, getting stuck next to the stage and then escaping the scene with arms locked so they didn't get separated.
The mother and daughter from Southern California now have matching tattoos to remember that shared moment, and to always have a reminder that they held on and never gave up. The newlywed's story was covered by journalist Carolyn Presutti for Voice of America.
California correctional officer Todd Winke exchanged vows with Oshia Collins-Waters in the romantic Glass Gardens at Chapel of the Flowers on October 1. On this Monday afternoon, as the bride walked down the aisle in a vintage gown that sparkled with Swarovski crystals, her groom stood tall, albeit with shrapnel in his back. Exactly one year prior he shielded Oshia as bullets started flying at the Route 91 Harvest festival, and was shot three times. The touching wedding packed the chapel with 88 guests, 16 of them fellow survivors, and was featured in the Las Vegas Review Journal, Fox TV and Good Morning America.
"What happened in Las Vegas on October 1, 2017 will never be forgotten." said Donne Kerestic, CEO at Chapel of the Flowers. "In a city that is full of excitement and celebrations year-round experienced the most horrific mass shooting in our country's history. My family, our staff and their families were in shock with the rest of the community and the world. I'm sure that I speak for many others when I say that we weren't sure how we'd ever be able to help comfort those who survived. We are humbled and honored to have been able to help these two couples create new memories here in Las Vegas. A wedding represents a new beginning, and that is exactly what Lacey and Josue, and Todd and Oshia deserve more than anyone. God bless these strong couples." 
Each couple received a beautiful custom wedding gift basket from the staff at Chapel of the Flowers.
About Chapel of the Flowers 
Chapel of the Flowers, located at 1717 Las Vegas Boulevard South, has been celebrating love for nearly 60 years. The stunning indoor and outdoor chapels seat between 20 and 88 guests, and receive top ratings from couples around the world as well as from local residents of Las Vegas. 
Founded in 1960, Chapel of the Flowers is Las Vegas' highest rated and largest full-service wedding venue, providing traditional, modern and elegant Las Vegas weddings on the world-famous Strip. An acre of cobblestone-accented grounds and vibrant backdrops are designed to capture every picture-perfect moment of a Las Vegas wedding. Professional wedding planners, part of a team of nearly 100 on-site staff members, ensure that every aspect of the wedding day is personal, easy and stress-free. Chapel of the Flowers' impeccable customer service assures the couple that all details of the wedding, including the ceremony, flowers, award-winning photography and reception venues will result in cherished memories for a lifetime. Chapel of the Flowers is honored to be one of the preferred venues in Las Vegas, the wedding capital of the world.