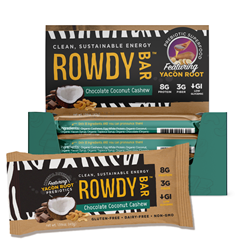 "Our digestive health thrives only when we have both pro- and prebiotics," explained Lee. "They strengthen our immune system, help us absorb more vitamins and minerals, and keep us revved and ready to go."
RENO, Nev. (PRWEB) July 24, 2018
Rowdy Prebiotic Foods is leading the charge into the newly emerging prebiotic marketplace with the first all natural energy bar featuring the gut-health superfood Yacon Root.
 
The brand is the culmination of triathlete and outdoors enthusiast Kellie Lee's clean eating research as she sought new ways of fueling her body for adventure after being thrown a medical curveball.
"I was worried I wouldn't be able to live the life I wanted after having my gallbladder removed and being diagnosed with hypothyroidism," explained Lee. "My diet and gut health were something I could control, and it empowered me to find my solution."
 
Her research led her to the Rowdy Bar's spotlight ingredient: Yacon Root.
 
This prebiotic powerhouse was the alternative sweetener she needed to create low-glycemic, high flavor bars for energy on the trail, the stage, or in the office.
 
"Our digestive health thrives only when we have both pro- and prebiotics," explained Lee. "They strengthen our immune system, help us absorb more vitamins and minerals, and keep us revved and ready to go."
 
Each Rowdy Bar is crafted with 10 or fewer whole food ingredients and no artificial flavors, and is paleo-friendly, non-GMO, and gluten-, soy-, and dairy-free.
 
Rowdy Bars are available in decadent Chocolate Coconut Cashew and Peanutty Dark Chocolate, with a new Sunflower Butter N' Berries flavor due to launch this August.
 
To learn more, visit http://www.rowdyprebiotics.com, or pick some up online and at independent grocery stores, gyms, and health centers nationwide.
 
About
At Rowdy Prebiotic Foods, they believe adventurous people deserve foods that can keep up with them. Their whole food, clean eating bars are a testament to the power of perseverance and positivity as well as the digestive health benefits of prebiotics.