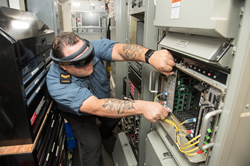 "After the RCN diligently validated the solution for a year, this partnership expansion represents not only a big step towards a digitally-connected Navy but one of the first scaled deployments of a mixed reality remote support system in a defence organization. The RCN is leading the way globally."
FREDERICTON, New Brunswick (PRWEB) September 25, 2020
The Royal Canadian Navy (RCN) has expanded its trial of the RemoteSpark Mixed Reality Remote Assistant Support (MiRRAS) system. This phase aims to evaluate RemoteSpark's potential to improve maintenance and repairs aboard RCN vessels and systems — at-sea and in-port —, while further validating the use of mixed reality remote support leveraging the hybrid-cloud, on-premise computing functionality of the platform.
RemoteSpark MiRRAS is a secure and reliable mixed reality communication tool built for use on the Microsoft HoloLens. It allows remotely located operators to establish a low-bandwidth, secure audio and video call to operation centers, subject matter experts and decision-makers located anywhere in the world. Expert users can see what the remote user sees. Through the remote support platform, expert users can send task-relevant digital assets (PDFs, Microsoft Office files, images, multi-step animated 3D models and IoT connected digital twins) to remote users to facilitate complex troubleshooting and task guidance.
This capability will also enable the RCN to digitally deliver subject matter expert support to deployed technicians, reducing travel and time required to carry out critical maintenance.
The RCN began using the system on a pilot scale in the spring of 2019. The initial demonstration was designed to validate the system's ability to enable RCN Marine Technicians and Weapons Engineering Technicians to maintain a high level of operational readiness aboard active RCN vessels through the functionalities of the solution.
The RCN will be using the hybrid-cloud functionality of this solution, which combines Kognitiv Spark's RemoteSpark MiRRAS software on Microsoft HoloLens 2 with the on-premise computing capability of Hewlett Packard Enterprise Edgeline servers. The deployment of this mixed reality remote support system advances the Navy's progress down the innovation pathway set out in the RCN's Digital Initiative. 
"This project will lay the foundation for a longer-term digital vision that sees the RemoteSpark capability deployed across the RCN, enterprise-wide," said Duncan McSporran, COO and Co-Founder of Kognitiv Spark. "After the RCN diligently validated the solution for a year, this partnership expansion represents not only a big step towards a digitally-connected Navy but one of the first scaled deployments of a mixed reality remote support system in a defence organization. The RCN is leading the way globally."
This project will also enable a number of complementary RCN projects focused on enhanced spatial computing capabilities and technical content with aim to deliver critical support, remotely, to frontline operators whether they're in Canada or deployed globally, ensuring maximum operational readiness for RCN systems and sailors. 
In a series of statements made earlier this year on digital transformation, Vice Admiral Art MacDonald, Commander of the Royal Canadian Navy stated, "we have entered a new era where naval activities are more dependent on actions taken in the digital domain than ever before."
"Increasingly, those organizations that find innovative ways to digitally empower their people will be the ones who secure for themselves future mission success. Your Royal Canadian Navy will be among this cohort."
The adoption of this system builds on the resilience of the RCN, enabling the organization to maintain delivery of critical services effectively, efficiently and safely. 
"Kognitiv Spark uses Microsoft Azure and HoloLens to deliver a secure and scalable Mixed Reality (MR) solution that includes the integration of Artificial Intelligence (AI) and Internet of Things (IoT). The solution enabled the Royal Canadian Navy to improve efficiencies with ship operations including repairs, maintenance and knowledge transfer. Great example of a company that delivers innovative and creative solutions to enable organizations to take the next step in their digital workforce transformation," said Lisa Carroll, Canadian Public Sector Lead, Microsoft Canada.