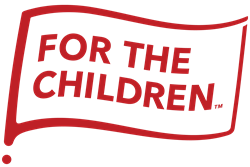 "Family-induced childhood trauma is our nation's greatest health care problem. We must better in our communities to give these innocent children the support that they need, not only for their sake but for the future of society."
SANTA ANA, Calif. (PRWEB) November 13, 2020
Royal Family KIDS, an international alliance of 252 chapters dedicated to interrupting the cycles of neglect, abuse and abandonment of children in the foster care system, will now be known officially as For The Children, effective November 2020.
In making the name change, the organization is emphasizing its continued growth beyond its traditional programs of intervention camps and mentoring opportunities for children in foster care.
While For The Children will continue to oversee these trademark camps and mentoring programs that have formed the foundation of its work, the urgent and changing needs of children and families in the child welfare system require a broader, more systemic approach.
"For 30 years, our staff, volunteers and local municipal partners have dedicated their time, talent and treasure to help transform the lives of vulnerable children across the U.S. and the world," said Paul Martin, President and CEO of For The Children. "Yet, extreme gaps in meeting the needs of these children and their families — especially considering COVID-19 — remain. I see an "epidemic within a pandemic" offering our 20,000 volunteers immediate opportunity to intervene and provide direct services, advocacy, and leadership."
As the new entity evolves, For The Children will expand its work in fostering, adoption, advocacy, awareness, volunteer engagement and wrap-around services. The need for a more effective, comprehensive and resilient approach to child welfare is critical.
"The child welfare system in the United States is in crisis," Martin said. "On any given day in America, more than 400,000 children linger in foster care. Due to COVID-19, those numbers will greatly increase in the months ahead. Family-induced childhood trauma is our nation's greatest health care problem. We must better in our communities to give these innocent children the support that they need, not only for their sake but for the future of society."
As part of its global advocacy mission, For The Children will launch the For The Children Pledge to ensure that every child can "live a life free of neglect, abuse, and violence."
For more details on the Pledge, please visit https://www.forthechildren.org/pledge-for-the-children