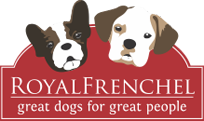 "As a dog owner, it is essential for your dog to know you know them well to build trust. This friendship with timely care helps with bonding, respect and effectiveness of communication."
RAINIER, Wash. (PRWEB) January 09, 2020
Royal Frenchel has announced the release of their most recent infographic: How to Train Your Dog, Best Friends for Life. It provides information and easy steps on bonding, communication, and building trust with your dog as a fun foundation for training.
Royal Frenchel shares some of their "secret sauce" that makes training easier than ever before. Royals are known for being super easy to train due to the use of some of these techniques as they grow, such as; identifying time with their people as a nutritional need beyond the typical thoughts of nutrition like, sleep and food.
Included in the infographic are three laws for building a team relationship with your dog. Connect, respect, and protect are principles that frame the information with easy steps that secure the dogs attention. It also provides unique and helpful tips for training like creating fun traditions that a person and their dog can look forward to while training with swift, clear and consistent discipline.
According to Royal Frenchel, "As a dog owner, it is essential for your dog to know you know them well to build trust. This friendship with timely care helps with bonding, respect and effectiveness of communication."
Check out the Royal Frenchel "secret sauce" for training here.
About Royal Frenchel:
In an effort to find a good service dog for her daughter, Anahata Graceland a breeder of over half a century, created the Royal Frenchel. Royal Frenchels were awarded the Top Award of Pets Best and Farmers Insurance Companies for being a top breed to buy for best health, personality, and longevity. Royal Frenchels are intuitive, intelligent, fun loving dogs. They are a crossbreed predominantly created with the French Bulldog and Cavalier King Charles Spaniel along with other breeds which were used to stabilize the genes.