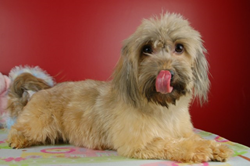 Although the canine flu is highly contagious, most dogs do recover. Canines most at risk include those that are young, pregnant, or geriatric.
Charlestown, RI (PRWEB) May 28, 2015
A new canine influenza outbreak has made recent headlines, with news stations reporting additional cases every day. So far, the outbreak is centered in Chicago, but cases have been reported in several other states, including Massachusetts, New York, California, Texas, Alabama, New Jersey, Georgia, Michigan, Wisconsin, Iowa and Indiana. Royal Flush Havanese discusses the symptoms and problems associated with the virus, and offers some preventative measures to keep dogs from contracting the flu.
Firstly, it is important to understand how the flu is contracted. Dogs can catch the flu by coming into contact with other dogs, by licking one another, or by coughing or sneezing. Dog kennels, groomers, parks and daycare are common places where the flu can quickly spread, due to so many canines being in close proximity. However, although the canine flu is highly contagious, most dogs fully recover within 7 to 10 days of showing symptoms. Canines most at risk include those that are young, pregnant, or geriatric, and it is also these dogs that run a greater risk of developing serious side effects, such as pneumonia.
Interestingly, the specific strain currently spreading is known as H3N2, which originally began as a bird flu virus and morphed to infect canines as well. As it is a contagious respiratory disease, the first symptoms typically include a cough, runny nose and a fever. In about 20 percent of cases, dogs can become lethargic and lose their appetite, leading to more serious complications. Any dog exhibiting symptoms should see a veterinarian right away. However, it is important to understand that not all dogs that have contracted the virus will show symptoms. If a canine may have come into contact with another who is infected with the flu, it is best to bring the dog to a veterinarian, where it can be determined whether he/she contracted the virus as well.
Although the canine flu cannot be passed from canine to human, humans can spread the illness through their clothing. To best protect the virus from spreading, anyone who has been in contact with an unfamiliar dog should wash all clothing immediately upon returning home, using a small amount of bleach in the washer as well. Additionally, dogs can be vaccinated against canine flu, but it is yet unknown whether the vaccination protects against this specific H3N2 strain, so most veterinarians are not advocating vaccination at this time. Also, because Havanese dogs are a small breed, they can be sensitive to shots, and therefore should not be unnecessarily vaccinated.
Since vaccination might not be the best choice for the Havanese, what can owners do to protect them? The best way to keep a canine from contracting the flu is to boost his/her overall health. Royal Flush Havanese recommends that all Havanese take NuVet supplements to boost their immune systems. NuVet supplements should be given year-round so that when a flu outbreak does occur, dogs are already at optimal health. Additional dog-friendly recipes that can boost a canine's immune system include a mixture of honey and cinnamon, as well as colloidal silver (See our article titled 'Natural Home Remedies for Dog Injuries and Ailments' for more ideas.).
Royal Flush Havanese hopes that these tips and information regarding the recent canine flu outbreak will help Havanese owners be prepared and informed. Royal Flush Havanese is a BBB accredited business specializing in breeding and raising Havanese puppies born and raised in Rhode Island and Florida. Royal Flush Havanese has been awarded a Certificate of No Complaints from the BBB and a company rating of A+ for outstanding dedication to honesty in the business place, customer satisfaction, and for ethical policies and procedures. Please join Royal Flush Havanese in their quest to teach others about the loyal, gentle and lovable Havanese breed. Like us on Facebook where you can find even more helpful articles and informative tips for dog-enthusiasts and breeders alike.