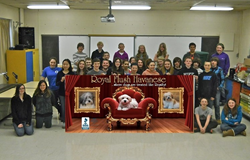 she understands firsthand the importance of being able to follow one's passions while becoming a successful member of the community.
Charlestown, RI (PRWEB) November 25, 2014
Royal Flush Havanese loves nothing more than being able to give back to the community that provides their Havanese with wonderful and loving homes. Just this month, Royal Flush Havanese was able to grant a grand total of $3,200 to Gardiner Regional Middle School in Gardiner, Maine to fund the completion of their state-of-the-art STEM lab. STEM stands for Science, Technology, Engineering, and Mathematics– a name that stresses the importance of presenting students with real-world scenarios and giving them a chance to do hands-on work that cannot be done inside a classroom. The introduction of the STEM lab to the middle school will provide students with a chance to use critical thinking and problem solving skills, and help encourage their excitement for career opportunities within the sciences.
To Holly Mastroianni, owner of Royal Flush Havanese, the decision to approve the grant for the middle school was an easy one. "I was a science teacher, and earned a masters in science education…my work breeding and raising the Havanese is based on the science of genetics, animal husbandry, anatomy, physiology and even dog psychology." Holly believes that the STEM lab will provide students with access to technology and experiences they would not be able to receive inside of a classroom, and she understands firsthand the importance of being able to follow one's passions while becoming a successful member of the community.
The grant from Royal Flush Havanese provided the middle school with enough funding to completely furnish the lab–something that had seemed almost impossible just a few months ago. A lack of funds had delayed the official opening, but now, the STEM lab is prepared for full use. The grant money was used to equip the lab with tools, seating, and cabinets, allowing for full utilization of the space. The STEM lab is outfitted with electronics, a density tank, and a system permitting for students to grow vegetables hydroponically, and will be used by a multiplicity of students, including the Robotics Team and CookPlantGrow!– the school's gardening club.
Along with the grant to the Gardiner Middle School STEM lab, Royal Flush Havanese continues to sponsor both a youth basketball league and a girl's softball league, in addition to being a veteran supporter and fund-raiser for the Leukemia and Lymphoma Society. To learn more about Royal Flush Havanese, and to find helpful tips on dog care, visit their website. Royal Flush Havanese is dedicated to producing the finest Havanese puppies for sale and providing outstanding service in their care. The only dog breeder in the Ocean State to be accredited by the BBB, Royal Flush Havanese is proud of their outstanding dedication to honesty in the business place, customer satisfaction, and ethical policies and procedures.