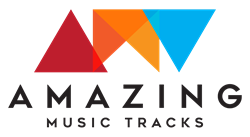 I've realized after my experience in the production music business that offering clients a straightforward approach to online music licensing is key to receiving their repeat business.
Los Angeles, California (PRWEB) August 08, 2017
Amazing Music Tracks announces that the first 100 users that sign up to their mailing list will receive a coupon code for (1) free standard license on any royalty-free music track in the AMT catalog.
Videographers, filmmakers, app & game developers, animators, web designers, YouTube video creators and many others often tirelessly search through royalty-free music websites for background music to enhance their creative projects. They want quick access to high quality production music and stock music at affordable license prices in order to gain both the highest level of satisfaction from their clients and a greater return on investment per project. 
Amazing Music Tracks aspires to replace the traditional time consuming search with a hand picked catalog of music that is produced and tagged by the world's leading and award winning composers in the television and film industry.  By organizing the music in a manner that makes it easily accessible, users are able to quickly find the music they need, download the audio files and immediately start incorporating the licensed music into their creative video projects.
After two years in the making, the AMT royalty-free website recently launched with over 5,000 unique tracks each handpicked, tagged, and ready for download. Many tracks also include stems and minus mixes of the full mix version. Over fifty composers from around the globe participated in supplying music for the initial launch. AmazingMusicTracks.com is currently accepting new composer submissions to further add to and grow its catalog by the end of 2017.
The Amazing Music Tracks library includes a wide variety of musical styles including: action, ambient, corporate, comedy, dramatic, electronic, emotional, film score, games, rock, romantic, suspense, tension, trailer, and world all easily accessible through the genre menu of the Amazing Music Tracks website.  Additionally, their pro-industry playlists, some of which include: Business Marketing, Christmas, Cinematic, Exercise, Government, Mobile App & Game, Real Estate, and Wedding & Romance are perfect for quickly finding tracks that fit a particular creative project niche. Kyle refers to his recent entry into the royalty-free music market:
"I've realized after my experience in the production music business that offering clients a straightforward approach to online music licensing is key to receiving their repeat business. This is why my team and I spend a good amount of time listening and tagging each and every music track submission.  We want our royalty-free music clients to have the exact same experience as my TV production and film clients are use to."
Pietro Milanesi, comments on his experience working on this royalty-free music-licensing site.
"Overall, it has been a really exciting experience getting involved in the royalty free music business. Having come from a music background (Berklee College of Music Graduate, 2016), I understand the countless hours that go into to producing high quality music tracks, so finding licensing opportunities for fellow composers, songwriters, and producers is my top priority."
Amazing Music Tracks offers competitive licensing fees and terms that include: pay once, use forever in unlimited projects. Additionally, a site wide 25 percent off discount is currently available to all new users while the site is still in its beta stage.
For more information and questions about Amazing Music Tracks, visit AmazingMusicTracks.com or contact Kyle and the team at info(at)amazingmusictracks(dot)com.
About Amazing Music Tracks
AmazingMusicTracks.com was started as a way to give content creators access to a handpicked royalty-free music catalog. If you're filming a wedding video or corporate video, making a video for YouTube, or creating your first film in school, Amazing Music Tracks has the perfect piece of music to fit your project in our 5,000+ track catalog!