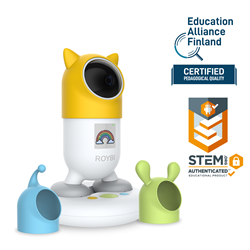 ROYBI Robot has a high global educational quality and is proven to promote an engaging learning solution.
SAN JOSE, Calif. (PRWEB) December 16, 2020
ROYBI Robot, the award-winning educational robot for preschoolers, receives two prestigious certifications from accredited experts in pedagogy and STEM. With thousands of customers in over 30 countries, ROYBI Robot brings personalized and AI-powered teaching methods to 21st-century children, preparing them for future success.
**Pedagogy Certification**
Education Alliance Finland awards ROYBI Robot one of the world's most recognized certifications in innovative teaching methods. During an evaluation that took six months and involved detailed feedback, it allowed ROYBI Robot's continuous enhancements. The assessment focused on three areas: Learning Goals, Pedagogical Approach, Learning Engagement. To receive the certification, a team of teachers evaluated ROYBI against a science-backed method that has been developed by university researchers in Finland, the renowned world-leaders in education. This certification recognizes that ROYBI Robot has a high global educational quality and is proven to promote an engaging learning solution.
**STEM.org Authentication**
STEM.org authenticated certified ROYBI Robot as one of the leading products to promote and enhance design thinking, STEM education, problem-solving, critical thinking, 21st-century skills, and seamless learning. When parents and educators see the STEM.org Authenticated™ Seal, they know ROYBI Robot will:

Integrate seamlessly into STEM-friendly homes and programs
Align to Science, Technology, Engineering, and/or Math standards
Support the development of student's 21st Century Skills
Engage students through hands-on learning and collaboration
"We're thrilled to receive these accreditations of our pedagogy and STEM learning programs. The feedback we received will allow us to enhance our teaching method and serve children from different socioeconomic and cultural backgrounds in the US and around the world. We, at ROYBI, are committed to providing high-quality educational programs that can help parents and educators provide more fun and engaging learning experience for the children." Said Naciem Nikkhah, Ph.D., Program Manager, Education Technology at ROYBI.
Among these accomplishments, ROYBI Robot has won numerous other awards such as Time Magazine Best Invention in Education, National Parenting Award, Mom's Choice Award, and Fast Company World-changing Idea. Founded in 2019, ROYBI is on a mission to provide a personalized learning experience to children and highlight every child's ability and interest. ROYBI provides an infinite learning opportunity to set children apart for future success and to provide high-quality education beyond border limitations.