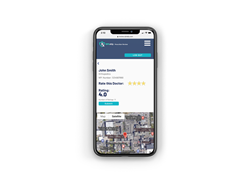 SAN DIEGO, Calif. (PRWEB) December 03, 2020
RPhAlly, the new network for pharmacists, today announced the launch of the Prescriber Review, a new tool for community pharmacists. The Prescriber Review is a new feature within the RPhAlly app where pharmacists can provide their professional opinion of a prescriber in the form of a four-star review. When other pharmacists receive prescriptions issued by providers unknown to them, they can utilize the Prescriber Review to see how their colleagues feel about the particular provider.
Pharmacists act as gatekeepers for dispensing controlled substances. They have a corresponding responsibility to make sure the prescription is legitimately prescribed for a valid medical purpose in the usual course of the provider's professional practice. While pharmacists play a crucial role in combatting the opioid epidemic, many dispense controlled substance prescriptions without knowing the prescriber or their prescribing habits. This innovative tool allows pharmacists to work together to better understand their colleagues' professional opinions of providers unknown to them and protect their licenses.
"We created this tool so that pharmacists could have an additional data point to serve their patients better and make more informed decisions when dispensing a controlled substance." - Shawn Bjorndal, RPhAlly Founder.
RPhAlly is committed to becoming a hub for all things pharmacy. The app is free and includes a live feed, a pharmacy specific news feed, pharmacist groups, a directory, and forums. Members can also listen to the Pharmacy Podcast Network from within the platform, the first of many partnerships to come. The Prescriber Review is located within the RPhAlly app, available on Apple and Google Play stores.
About RPhAlly:
RPhAlly is an exclusive platform for pharmacy professionals in the United States to share vital industry information, network with colleagues, grow their careers, and adapt to a rapidly changing industry resulting in more productive, successful, connected, and compliant professionals.
Launched in 2020, RPhAlly allows pharmacists to connect, share, learn, and advocate for the practice of pharmacy all within one app. The platform is available on both iOS and Android or visit https://rphally.com.