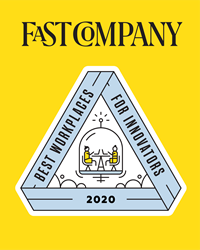 "This honor is all about our employees—the dreamers, the disruptors, and the doers—who aren't afraid to tackle humanity's biggest challenges," said Charles Rath, President and CEO of RS21. "I'm so proud of the culture we've created at RS21, and I am blown away by the team's accomplishments!"
ALBUQUERQUE, N.M. (PRWEB) August 03, 2020
Fast Company today announced its second annual Best Workplace for Innovators list, honoring businesses and organizations that demonstrate a deep commitment to encouraging innovation at all levels. RS21—a data science and visualization company headquartered in Albuquerque, NM—came in at number 43, for its demonstration of employee-led innovation and the creation of the Urban Health Vulnerability Index in just 5 days. The data analytics tool identifies neighborhoods at higher risk for COVID-19.
Developed in collaboration with Accenture, the 2020 Best Workplaces for Innovators ranks 100 winners from around the globe and from a variety of industries, including computer science, biotech, consumer packaged goods, nonprofit, education, financial services, cybersecurity, and engineering. Working together, Fast Company editors and Accenture researchers scored nearly 900 applications, and a panel of eight eminent judges reviewed and endorsed the top 100 companies—an increase from last year's list of 50. The 2020 awards feature workplaces from around the world with several of the honorees based outside the U.S.
RS21 is the only New Mexico-based company and the highest-ranking data science company to make the global list. Other notable technology companies to make the top 100 list include Google, Amazon, Microsoft, Intel and IBM.
"This honor is all about our employees—the dreamers, the disruptors, and the doers—who aren't afraid to tackle humanity's biggest challenges," said Charles Rath, President and CEO of RS21. "I'm so proud of the culture we've created at RS21, and I am blown away by the team's accomplishments!"
"As much of the world recovers from health, economic, and social crises, we need innovation more than ever," says Stephanie Mehta, editor-in-chief of Fast Company. "This new list of the Best Workplaces for Innovators celebrates organizations that have fostered innovative thinking by investing in technology, research and development, and their employees."
To see the complete list, go to:  http://www.fastcompany.com/best-workplaces-for-innovators/2020
Fast Company's Best Workplaces for Innovators issue (September 2020) is available online now, and the print issue will be on newsstands beginning August 4, 2020. Join the Best Workplaces for Innovators conversation using #FCBestWorkplaces.
About RS21
RS21 is a rapidly growing, global data-science and visualization company with offices in Albuquerque, NM and Washington, DC. We empower organizations to make data-driven decisions that positively impact the world through innovative solutions that are insightful, intuitive, inspiring, and intellectually honest. By providing data-driven insights that achieve programmatic goals, improve efficiencies, reduce costs, and maximize productivity, we help clients navigate complex data issues in the fields of healthcare, population health, infrastructure resilience, disaster preparedness, supply chain management, and crime. For more information, visit http://www.rs21.io.