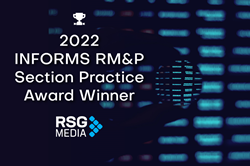 Faced with increasingly complex challenges in today's rapidly changing TV Viewing landscape, media companies require new tools to compete in the future of television.
NEW YORK (PRWEB) July 05, 2022
The Institute for Operations Research and the Management Sciences (INFORMS) announced that RSG Media is the winner of its prestigious 2022 INFORMS Revenue Management & Pricing (RMP) Section Practice Award. RSG Media won for its work in applying machine learning artificial intelligence and predictive modeling to art of scheduling television advertisements. Their competitors included Massachusetts Institute of Technology (MIT), New York University (NYU), and Carnegie Mellon University.
Led by academics and experts in the field of operations research, the RSG Audience team showcased how their proprietary Log Optimizer 'micro-places' ad units to deliver on campaign guarantees, while honoring all deal constraints and avoiding under and over-delivery.
The submission included a formal paper titled "9 Years of Substantial Revenue Increase by Scheduling Advertising Optimally and Seamlessly on Cable Television". The paper highlights that the system works by capitalizing on the variance of audience composition for every time slot and that the fact that the revenue earned from each Ad Unit is based on the guaranteed delivery against a unit. The Log Optimizer uses predictive analytics to forecast Nielsen audiences and then create the optimal schedule to maximize the guaranteed audience delivered against each unit, generating more revenue per unit and per day.
The submission team included RSG Alums Professor Sridhar Seshadri of Gies College of Business, Dr. Sebastian Souyris of the University of Illinois Urbana-Champaign, Dr. Sriram Subramanian of Pinterest and Vinod Kumawat, Varun Verma and Shiv Sehgal of RSG Media.
"Faced with increasingly complex challenges in today's rapidly changing TV Viewing landscape, media companies require new tools to compete in the future of television. RSG's ad sales optimization engine achieves annual uplifts of 6-11% at over 30 networks delivering a strategic edge for Broadcast & Cable Networks to free up inventory and generate more revenue every day," said Shiv Sehgal, Executive Vice President of Audience Analytics at RSG.
The RMP Section Practice Award, presented by INFORMS since 2004, recognizes outstanding applications of revenue management and pricing techniques. Four finalists were selected on May 18 by a RMP Practice Award Committee of four esteemed judges from Johns Hopkins Carey School of Business and the University of Chicago's Booth School of Business. Finalists presented their work during the INFORMS RMP Conference on June 20.
Supporting Resources
RSG AdVant
RSG Audience's AdVant is our end-to-end SaaS application built specifically for Broadcast & Cable companies. It revolutionizes the lifecycle of advertising deals, supporting Pricing, Planning & Inventory and Ad Operations teams all within a single platform.
About RSG 
RSG Media believes in using both art and science to deliver radical insights and deeper connections to drive the evolution of the media ecosystem. RSG Media drives client revenue and profits through rights, audiences, and advertising across platforms using deep analytics, artificial intelligence, enterprise systems, and expert advisory services. Its customers include Cable & Broadcast Networks, MVPDs, Studios, OTT, Brand Licensors and Sports Leagues

RSG Rights: Enterprise rights management, strategically tailored to how each business group needs it.
RSG Audience: Cloud-based AI-Decision-Making Platform for media companies to decide data for radical insights across their content, advertising and marketing inventories.
RSG Media was founded in 1985 and is based in New York City with offices in Los Angeles, London, and Delhi/Gurgaon. For more information, visit https://www.rsgmedia.com/.