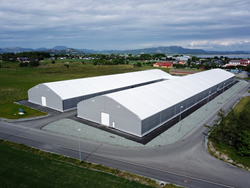 "The halls are excellent for our needs and are of a quality we know we will benefit from for a long time. They keep the required temperature consistently, even on hot summer days."Alexander GrøntvedtProduction ManagerGrøntvedt Pelagic AS
SANFORD, Maine (PRWEB) October 31, 2018
Climate controlled distribution warehousing is one of the fastest growing requirements in the supply chain.
Rubb Building Systems, with factories in Maine, Norway, UK and Poland, has a worldwide reputation for responsible design and engineering of clearspan fabric tension structures and buildings. Rubb cool space warehouses provide cost effective and energy efficient solutions for users in need of increased/enhanced temperature controlled buildings. Investments in adaptable Rubb warehouse solutions can help organizations achieve vital storage, transportation, trade, and economic goals at a cost effective price.
Rubb Thermohall® buildings offer flexible insulation R-Values depending on the needs of the customer. Thermohall® R values range from R-11(2") up to R-35(8"). This type of Rubb cladding is ideal for climate controlled storage warehousing and operations. The Thermohall membrane is highly resistant to tearing, stretching and movement even in harsh weather conditions. Once fastened to the galvanized building frame all air infiltration is virtually eliminated making the Thermohall system unique in the marketplace.
Added benefits of the Rubb Thermohall insulated warehouses are relocatability and low or no maintenance. Also, Rubb buildings are factory pre-fabricated, offering significant labor savings on site and greatly reducing overall installation time.
-CASE STUDY
Grøntvedt Pelagic AS, a leading producer of herring in Norway, chose Rubb AS as key supplier for its new plant at Ørland in Sør-Trøndelag. With the challenging climate of coastal Norway, Rubb provided an insulated and refrigerated structure that meets both wind and snow code requirements.
Rubb provided an 30m (98.4ft) x 108m (354.3ft) x 5m (16.4ft) fabric structure, featuring Serge Ferrari fabric insulated with 150 mm(6") Thermohall® cladding. The hall is divided by a partition inside to accommodate two temperature zones, and is used for storage and maturing of herring in barrels before exporting.
Grøntvedt has now expanded with an additional insulated Thermohall®. This has been linked to the first fabric building and measures 30m (98.4ft) x 152m (498.7ft) x 5m (16.4ft). The structure features the same Thermohall® specifications as the original building.
The buildings are energy efficient, with quick construction time and are perfect for this kind of storage.
"The halls are excellent for our needs and are of a quality we know we will benefit from for a long time. They keep the required temperature consistently, even on hot summer days."
Alexander Grøntvedt
Production Manager
Grøntvedt Pelagic AS
Rubb values quality and strives to exceed our customers' expectations with integrity, innovation and a passion for doing things right.
Rubb buildings are noted for their quality components, flexibility in design, energy efficiencies, and quick construction. With little or no maintenance, Rubb is the industry leader in cost effective storage solutions. Building systems can support most door systems along with HVAC, dehumidification and lighting systems.
Can you afford NOT to have a Rubb? http://www.rubbusa.com 207-324-2877