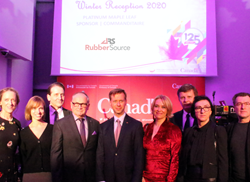 We're not the company we were even a year ago.
CAMBRIDGE, Ontario (PRWEB) June 16, 2020
RubberSource manufactures rubber linings that provide chemical and/or abrasion resistance protecting OEM equipment for mining, aggregate and chemical markets. RubberSource offers a full range of uncured and pre-cured premium rubber linings, Polyurea coatings, and repair products for use in these markets. RubberSource is best known for their full range of solutions for the mining and oilsands applications around the world, as well as their Permobond® (formely Uniroyal Permobond®) catalog of proven uncured rubber compounds, now with the initiative to provide localized service to these clients globally.
RubberSource's first growth initiative was to expand sales and warehouse facilities to support their planned growth. November 2019 marked the opening of RubberSource Europe, with a sales office in Germany and a warehouse in Poland positioned to supply Europe, Africa, Middle East, and China.
RubberSource's Canadian headquarters, located within 200km of 4 U.S./Canadian borders, has also expanded to serve the Americas. Soucy-Techno – Rubbersource's manufacturing partner based in Sherbrook, Quebec – has a new, fully integrated and automated manufacturing process at their ISO 9001:2015 certified state-of-the-art manufacturing facility. Soucy-Techno has also recently expanded its warehouse to 3,300 m2 to address the increased demand. RubberSource consistently maintains 200 rolls of rubber in inventory and can manufacture any other requirements in less than 2 weeks, quite often in 3-5 business days.
The second initiative is to expand into the chemical storage and transportation applications, providing linings for RailCar, ISO tanks, and over-the-road transportation of chemicals. Working with industry experts, RubberSource developed linings with improvements over the existing limited options currently available in the marketplace. Their linings have just been approved by a major European railcar manufacturer.
The third initiative is a complete rebranding including logo, website, and innovative interactive web and mobile applications, as well as how-to videos to support the new global RubberSource brand identity.
"We're not the company we were even a year ago," stated President and CEO, Rob Adie. "We needed a new, fresh look that better represented the company we are today and are quickly growing into. We are laser-focused on continuous improvement, bringing our customers the products they need to solve their most difficult corrosion and abrasion problems."
RubberSource is positioned to lead as a key supplier to both the mining and chemical industries. For additional information, please visit http://www.rubbersource.ca or contact: Mr. Rob Adie, President at rob@rubbersource.ca or call 519-620-4440 ext: 221.
###
Background
RubberSource specializes in the design and manufacture of Protective Rubber Linings for chemical and abrasion resistant applications. With proprietary Permobond® catalog (formerly Uniroyal Permobond®) of proven uncured rubber compounds, Rubber Technologists, Chemists, state of the art laboratory, in house mixing & calendaring, we are equipped to handle any requirement.
RubberSource has set a new standard of service by partnering with Rubber Applicators, Engineering Firms and End Users providing project advice with technical experience, and expertise in the form of material recommendations, Specification and project scope writing, global applicator referral and training. RubberSource recognizes the true value add is not just having a quality product and service but being involved in the inception and early stages of projects by leading and exceeding expectations.