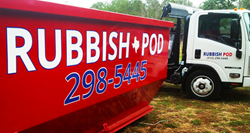 Having an online system that tracks all the equipment and work sites gives us the ability to fine tune the scheduling so that dumpsters are delivered quickly and picked up as soon as they are ready to go. -Josh Belcher
Austin, Texas (PRWEB) September 08, 2014
The trash industry can be an ugly business, which is why Rubbish Pod is revolutionizing the way people receive trash removal services. The company prides itself on exemplary customer service, and a new software implementation promises to deliver even more impressive results.
Using a proprietary software system, Rubbish Pod employees will be able to track the locations of dumpsters, schedule pickups and line up drop offs. Each driver will be equipped with an iPad so that they can access the software from anywhere at any time. It's a high tech tool that very few trash removal businesses are currently utilizing, but for Rubbish Pod the value is undeniable.
Joshua Belcher, the owner of Rubbish Pod, said that the result would be more efficient service that anticipates customers' needs. "What we plan to do with the new software system is very exciting. One of the draws of our service is that we offer same day dumpster delivery right to the site. Having an online system that tracks all the equipment and work sites gives us the ability to fine tune the scheduling so that dumpsters are delivered quickly and picked up as soon as they are ready to go."
The company expects that the new software program will be operable on the business side in September. There are also plans to extend the software to the customer side in the near future so that clients have the ability to schedule services online and track their dumpsters. This would give the customers much more control and keep them connected at every stage of the trash removal.
To learn more about Rubbish Pod and their trash removal services, please visit: http://www.rubbishpod.com
About Rubbish Pod
Rubbish Pod is an Austin-based refuse removal company that offers concierge level customer service for roll-off dumpster rentals, trash hauling, junk removal and demolition. Services are available for residential, commercial and disaster clean ups throughout the entire Austin metro area. Rubbish Pod sets itself apart from the competitors with flat rate pricing, attractive equipment and speedy, same day dumpster delivery and pick up.