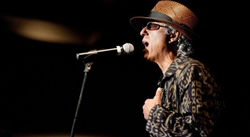 LOS ANGELES (PRWEB) September 09, 2021
KCET, Southern California's flagship PBS station and home for award-winning public media programming, announced today the return of the KCET Original Emmy® award-winning arts and culture series ARTBOUND. The twelfth season of the series kicks off with an examination of one of the pioneers of Chicano rock 'n' roll, Rubén Funkahuatl Guevara. Upcoming episodes from the new season include recontextualizing the mythologies of the American West, a look at the queer art community in the early 2000s, the making of The Industry's groundbreaking opera Sweet Land, the life of renowned ceramicist Helen Jean Taylor and an exploration of the Desert X 2021 exhibition. ARTBOUND examines the lives of artists and movements in California and the contributions they have made to American culture today. The new season will premiere on Wed., Oct. 13 at 9 p.m. PT on KCET and will subsequently air Fri., Oct. 15 at 8 p.m. PT on PBS SoCal and Tues., Oct. 19 at 10 pm ET/PT on Link TV (DirecTV channel 375 / Dish Network channel 9410).
New episodes of this season of ARTBOUND will premiere as follows (subject to change*):
"Con Safos"– Wed., Oct. 13 at 9 p.m. on KCET / Fri., Oct. 15 at 8 p.m. PT on PBS SoCal / Tues., Oct. 19 at 10 p.m. ET/PT on Link TV
A pioneer of Chicano rock 'n' roll, 'Con Safos' ('With Respect') is a tribute to Rubén Funkahuatl Guevara who recounts his youthful experiences in Santa Monica during the 1940s which prepared him for early success in the music world. The film spans his time as lead singer of the Frank Zappa-inspired band Ruben and the Jets, his collaborations with Cheech and Chong, his crossover into the Chicano art world of the 1960s and 1970s, and his unique influence on Mexican American culture. Directed by Michael Vargas and Moni Vargas. Produced by Friends We Love, Inc.
"Life Centered: The Helen Jean Taylor Story"– Wed., Oct. 20 at 9 p.m. on KCET / Fri., Oct. 22 at 8 p.m. PT on PBS SoCal / Tues., Oct. 26 at 10 p.m. ET/PT on Link TV
Renowned ceramicist and educator Helen Jean Taylor has not only crafted timeless artworks inspired by colors found in home gardens, but also helped her students improve their mental health through the art of throwing clay. Directed by Oscar® nominated filmmaker Don Hahn. Produced by Stone Circle Pictures, Inc.
"Sweet Land: The Making of a Myth"– Wed., Oct. 27 at 9 p.m. on KCET / Fri., Oct. 29 at 8 p.m. PT on PBS SoCal / Tues., Nov. 2 at 10 p.m. ET/PT on Link TV
The making of The Industry's groundbreaking site-specific opera Sweet Land, named Best Opera of 2020 by the Music Critics Association of North America. An eye-opening pageant that disrupts the dominant narrative of American identity, Sweet Land was a highly collaborative creation produced by The Industry, the Los Angeles-based experimental company founded by MacArthur Fellow Yuval Sharon. Sweet Land took place February 29 - March 8, 2020 before being forced to shut down due to COVID-19. Directed by Jonathan Stein. Produced by The Industry.
"Desert X 2021"– Wed., Nov. 3 at 9 p.m. on KCET / Fri., Nov. 5 at 8 p.m. PT on PBS SoCal / Tues., Nov. 9 at 10 p.m. ET/PT on Link TV
The desert is both a place and an idea. The recurring site-specific, international art exhibition Desert X 2021 explored the histories and realities of the people who live there and the political, social and cultural contexts that shape their stories. Following widespread lockdowns, Desert X 2021 was one of the first safe, outdoor art experiences in the region, and it was free and open to all. Curated by artistic director Neville Wakefield with César García-Alvarez, the exhibition included newly commissioned works by 12 participating artists from eight countries. Directed by Dylan Robertson. Produced by Desert X with presenting sponsor Richard Mille.
"Imagined Wests"– Wed., Nov. 10 at 9 p.m. on KCET / Fri., Nov. 12 at 8 p.m. PT on PBS SoCal / Tues., Nov. 16 at 10 p.m. ET/PT on Link TV
Southern California's Autry Museum of the American West is working to recontextualize a large mural, dating from the Disney Imagineers-designed museum's opening in the 1980s. The mural depicts a widely accepted mythology of the West, which prioritizes white settler colonialism at the expense of other perspectives including those of Native Americans, Black settlers, Asian Americans and women. Discussions around civic memory and the renovation of a long-term gallery spark a larger conversation about this piece and its role in the museum. Produced in partnership with the Autry Museum of the American West. Directed by Anna Rau and Corbett Jones. Produced by The Range.
"LGBTQ Nightlife (Mustache Mondays)"– Wed., Nov. 17 at 9 p.m. on KCET / Fri., Nov. 19 at 8 p.m. PT on PBS SoCal / Tues., Nov. 23 at 10 p.m. ET/PT on Link TV
For a generation of multicultural Queer artists, gay nightclubs were a haven for seeking communion and solidarity. This film examines the history of these spaces and how they shaped the Queer cultural fabric unique to Southern California. One particular event, "Mustache Mondays" was a weekly destination for over a decade and became a seminal event for the Queer art community in the early 2000s. Directed by Marianne Amelinckx. Produced by The Ladies Room Agency.
For updates, follow @KCET and #Artbound on social media.
ACKNOWLEDGEMENTS
ARTBOUND is supported in part by the City of Los Angeles Department of Cultural Affairs, Los Angeles County Department of Arts and Culture, the National Endowment for the Humanities, the National Endowment for the Arts, Vision Maker, the Frieda Berlinski Foundation and other generous institutional funders.
ABOUT ARTBOUND
The critically acclaimed weekly television series and online destination ARTBOUND captures the spirit of the burgeoning arts and culture community in California and explores how it's shaping California as the creative capital of the world. The KCET Original series explores and illuminates the cultural issues of our times, providing critical in-depth analysis of how arts and culture affect society. The series and the online stories that are found at kcet.org/artbound are the result of cultural tastemakers throughout the region and collaborations with LA's top cultural institutions. Since its inception in 2012, the series has earned high industry praise including Emmy® Awards, Southern California Journalism awards, Golden Mike awards and a National Arts & Entertainment Journalism award, among others. ARTBOUND has been recognized with the prestigious ASCAP Foundation Deems Taylor / Virgil Thomson Multimedia Award for outstanding music.
About KCET
KCET is part of the donor-supported community institution, the Public Media Group of Southern California, which was formed by the merger of PBS SoCal and KCETLink Media Group. As one of Southern California's two flagship PBS stations, KCET is on-air, online as well as in the community, and plays a vital role in the cultural enrichment of Southern California. KCET offers a wide range of award-winning local programming as well as the finest public television programs from around the world. Throughout its 55-year history, KCET has won hundreds of major awards for its local and regional news and public affairs programming, its national drama and documentary productions and its website, kcet.org. For additional information about KCET's original productions, web-exclusive content, programming schedules and community events, please visit kcet.org. KCET Originals and PBS programming are available to stream on the FREE PBS App on iOS and Android devices, Roku, Amazon Fire TV, Apple TV, Android TV, Samsung Smart TV, and Chromecast. KCET is also available to watch live on YouTube TV.