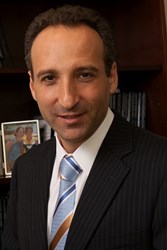 Newburgh, NY (PRWEB) January 06, 2014
Board certified facial plastic surgeon Dr. Ran Y. Rubinstein has witnessed exceptional results using the Precision Tx Laser Lift system for patients with concerns about sagging skin and excess fat deposits around the jawline and neck. Dr. Rubinstein was the first to introduce this new technology to the Hudson Valley over a year ago. He has been impressed with the results and positive feedback he has received from his patients who will often travel great distances to undergo the Precision Tx Laser Lift.
The Precision Tx Laser Lift, which utilizes Nd:YAG 1440-nm laser energy, melts unwanted fat and tightens sagging skin of the lower face and neck. The state-of-the-art technology offers a non-invasive alternative to traditional facelift surgery and minimizes the risks and downtime associated with the technique. Dr. Rubinstein has introduced the Laser Lift procedure to his patients with excellent results that show long-lasting benefits. Improvement in the appearance of loose fatty skin is visible immediately after undergoing the procedure, thanks to tissue coagulation that occurs when targeted by the laser energy. The area then continues to show desirable results over the course of 3 to 6 months. The procedure needed to achieve the desired look is fairly quick, generally requiring only 30 minutes to 1 hour.
Safety is a top priority and the ThermaGuide system is used along with the laser lift to monitor tissue temperature. General anesthesia is not used during the procedure, and is instead replaced by local anesthesia for the patient's optimal comfort. Very small incisions provide entry for a fiber optic wire that delivers the laser energy and a slim suction device is used to remove the liquefied fat. Downtime is minimal, requiring only a few days of rest and recovery from minor bruising and swelling. It has been found by Dr. Rubinstein that consistent use of a compression garment following the procedure helps to yield the best results.
Dr. Ran Rubinstein is double Board Certified with a medical degree from the Albert Einstein College of Medicine. He is certified by the American Board of Facial Plastic Surgery and the American Board of Otolaryngology-Head and Neck Surgery. Dr. Rubinstein specializes in aesthetic rejuvenation of the face, correction of nose and sinus problems, and reconstructive surgery. He is also an assistant professor at Columbia - New York Presbyterian Hospital, where he educates facial plastic surgery students.
Dr. Rubinstein's practice, Laser & Cosmetic Surgery Specialists, is conveniently located in Newburgh, NY. Along with his associate Dr. Donovan Rosas, the two surgeons offer a comprehensive selection of plastic surgery and non-invasive treatment options for the face and body. Dr. Rubinstein performs face lift and neck lift, rhinoplasty, revision rhinoplasty, eyelift surgery, endoscopic browlift, injectable treatments, Precision Tx Laser Lift, and Smart Lipo Triplex, to name a few procedures. Individuals interested in contouring the breast or body may also be interested in tummy tuck, arm lift, buttocks augmentation, breast augmentation, breast lift, and several other techniques used at Laser & Cosmetic Surgery Specialists. Laser and skin treatments are also often requested by patients seeking help for regaining and maintaining a youthful appearance. Call (854) 863-1772 to learn more about Laser Lift or visit http://www.yourfacemd.com.