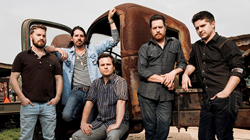 "Over the last 13 years, State Line BBQ has been a tremendous partner to El Pasoans Fighting Hunger," says Susan Goodell, CEO, El Pasoans Fighting Hunger. "With the cash and food collected during the 'Rudolph Auto Group Free Live Music Series,' we can continue our mission of feeding the hungry."
EL PASO, Texas (PRWEB) May 31, 2019
The "Rudolph Auto Group-State Line BBQ Free Live Music Series" continues this year with live performances from bands offering a showcase of music from rockabilly to traditional country--and everything in between. Now in its 13th year, the series will again benefit the El Pasoans Fighting Hunger Food Bank and is sponsored by and held at The State Line, 1222 Sunland Park Dr., El Paso, TX 79922.
The no-admission-fee music concerts are held every Wednesday night from 8 - 10 p.m., ending on August 21, 2019. Concerts are held rain or shine. Drink specials run Monday through Friday from 3 p.m.-7:30 p.m. NOTE: guests must be 21 years or older (or accompanied by a parent) to attend concerts.
All who attend are asked to make a food or monetary donation to the El Pasoans Fighting Hunger Food Bank. In 2018, the music series collected 667 pounds of food and $1,700 in monetary donations for the Food Bank. A total of 19,800 pounds of food has been collected over the past 12 years through the music series.
"Our goal is for everyone that loves music will attend the series and thusly help the greater El Paso community through the Food Bank," says Mike Shahan, General Manager of The State Line since 1989.
Here are the performers for the 2019 series, as of May 30:
April 10 - Abe Mac Band
April 17 - Shotgun Rider
April 24 - FM Junkies
May 1 - Damon Curtis
May 8 - John Baumann
May 15 - Clay Hollis
May 22 - Dusty Low
May 29 - Dirty River Boys
June 5 - Vincent Neil Emerson
June 12 - Fungi Mungle
June 19 - Micky & The Motorcars
June 26 - Kody West
July 3 - The Iveys
July 10 - TBA
July 17 - Small Town Habit
July 24 - The Powell Brothers
July 31 - Drew Fish Band
August 7 - TBA
August 14 - TBA
August 21 - TBA
Sponsors include Rudolph Chevrolet/Honda/Mazda/VW; KLAQ 95.5 FM; Side Door Liquor Store; Aceitunas; The B Selection; Jack Daniel's; Sierra Nevada; Stranahan's Whiskey; 1800 Tequila; Santa Fe Brewing Co; Dos XX; Coors Light; Shiner Bock; Southern Comfort and Southern Sounds.
All concert-goers are invited to after-party at Aceitunas Beer Garden, 5200 Doniphan Drive in El Paso.
"Over the last several years, the State Line has been a tremendous partner to El Pasoans Fighting Hunger Food Bank. We are grateful for the opportunity to raise much-needed funds, and to collect non-perishable items during the Music Series," says Susan Goodell, Chief Executive Officer, El Pasoans Fighting Hunger. "With the donations collected, both cash and food, during the Music Series, we are able to continue our mission of feeding the hungry in our Community."
The State Line continually updates the concert line-up at http://www.countyline.com/el_paso/. Follow The State Line on Facebook at facebook.com/TheStateLineBBQ or call (915) 581-3371 for more information.
El Pasoans Fighting Hunger Food Bank (EPFH) is El Paso's only food bank and a member of Feeding America, the nation's largest hunger relief network. It currently serves more than 200,000 food insecure individuals, with 1 in every 4 children and 1 in every 8 adults unsure of where their next meal will come from. EPFH works with more than 130 partner agencies to distribute as much as 15.5 million pounds of food a year in 3 county areas: El Paso, Hudspeth and Culberson. These are the food pantries, shelters, churches, and social service agencies that, together with EPFH, provide service to the hungry. The mission statement of EPFH is "to combat the hunger crisis in our region by strategically procuring and distributing nutritious food through community partners . . . because no one should go hungry." Visit it at http://www.elpasoansfightinghunger.com to learn more.
MEDIA CONTACT: Jeanne Albrecht
210/392-9047
jca(at)jeannebiz(dot)com
May 2019
NOTE: Photos and advance interviews with musicians can be coordinated by contacting Jeanne Albrecht at 210-392-9047 or jca(at)jeannebiz(dot)com