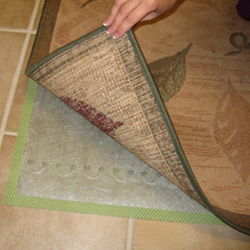 It's amazing what a little warmth on the floor can do to keep the entire room comfortable.
Cleveland, Ohio (PRWEB) September 30, 2014
Martinson-Nicholls' expanded line of RugBuddy portable heat mat systems warm cold spots in any room or office. The UL-listed portable heating system may be used on top of existing hard surface flooring or under area rugs or carpets to provide economical and effective floor heating.
Radiant floor heat is efficient and effective, as by warming from the ground up, RugBuddy systems produce evenly heated rooms that are more comfortable at lower temperatures. Unlike forced air systems, radiant heat eliminates cold spots, keeps ones skin from drying out, and can help reduce dust and allergens that may be blown about by forced-air heating.
Coupled with the new PlugBuddy SmartStat, the RugBuddy system can be programmed with four settings a day, plus weekend settings, and a manual hold.
"It's amazing what a little warmth on the floor can do to keep the entire room comfortable," stated one customer. "It surpassed my expectations!"
RugBuddy is made to fit under any area rug or non-glue down carpet, and can raise floor temperatures to as high as 80 degrees. RugBuddy comes in several sizes and creates heat that is almost instant. Using just 11 watts per square foot, RugBuddy conserves energy. Multiple units can be daisy-chained together to heat large areas. Individual RugBuddy heated mats range in sizes from 2 x 3 to 5.5 x 8 feet.
About Martinson-Nicholls
Martinson-Nicholls, has established itself as a leader in custom anti-slip tape, floor mats, and eco-friendly products for 60 years.
Martinson-Nicholls provides the customer with the exact size matting needed--small, large, standard, nonstandard, special shapes and logos. Custom installations are also a specialty of the company.
Anti-slip safety tapes and treads are available in various sizes and textures from hand cut or die cut pieces to full rolls and special shapes. For more information, please visit http://www.floormat.com.