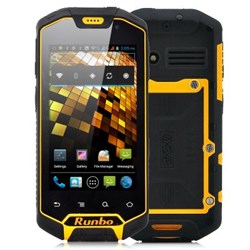 (PRWEB) November 26, 2013
When it comes to Android powered handsets, there is a plethora of options available, but Runbo has taken a stance to release something out of the ordinary. Runbo X5 is the company's latest available offering, and since its release, the phone has garnished praise from consumers all over the globe.
Runbo X5, a rugged handset, is packed with vanilla Android 4.0.4 OS, dual-core Cortex A9 1 GHz MKT6577 chipset, 1 GB RAM, 4.3 inch IPS display technology with a resolution of 800 x 480 IPS display, 8 megapixel back camera, 0.3 megapixel front camera, 4GB internal SD storage, microSD slot for expansion, two SIM card slots (GSM and WCDMA), GPS, WiFi and Bluetooth 3.0.
But these features aren't the main talking point of Runbo X5. It's the waterproof IP 67 level certification, the laser pointer featured on top of the handset, the walkie talkie that goes up to 5-10 km in range and the massive 3,800 mAh battery.
CEO James Yang said, "We created Runbo X5 as a mid-budget handset and decided that just offering a large display and a good processor won't satisfy the tech-savvy populace. That is why we included some unique features that consumers won't find in other handsets offered in the similar range".
"The IPS 67 certification makes Runbo X5 dustproof, waterproof and shockproof. The laser pointer will come in handy at night time and during outdoor games and the walkie talkie can be a life saver in instances when you're out of coverage".
Runbo X5 has also passed tests for health and safety, electromagnetic therapy, effective use of radio spectrum and RoSH 2.0. All these tests declare it completely safe for public use. The average price is below USD 400.
Mr. Yang also announced, "The Company's next model Runbo X6 will be launched soon. It keeps all the unique features and safety standards of the Runbo X5, but comes with a large display and resolution, a better camera and a bigger battery".
About Runbo
Runbo makes the finest quality rugged smartphones and goes out of the way to offer unique features to the consumers. The company has strict regulations over health and safety of smartphone use. More information about Runbo is available on the official website. http://en.runbo.net/