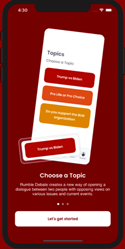 "We wanted to create a better outlet for people who express their political opinions on social media sites, and almost more importantly an outlet for those people who don't think social media is the correct platform for that type of discourse."-Founder Alex Leventis
CHICAGO (PRWEB) October 29, 2020
Tired of seeing overly political social media posts with no real discussion behind them?
We are too, hence Rumble Debate. We aim to create a new way of opening a dialogue between two people with opposing views on various issues and current events. We hope to do this by launching this debate focused app on iPhone and iOS devices.
The app is easy to use

Pick a topic
Select a stance on that topic
Get matched up with someone on the opposite side of that argument
Users are then prompted to discuss why they selected their position and debate their conflicting ideas. At the conclusion of the bout, users are then prompted to rank their opponent. The best performers will be listed on our top-ranked Rumblers page!
Rumble LLC creates one on one conversations with no outside influences while allowing users to be as anonymous as they want to be so they can be free of judgment from their peers.
Traditional social media can be a great way to keep in touch with friends and stay informed on news and current events, but it's probably not the best place for civil discourse. That's where Rumble Debate can help to fill the gap.
"We wanted to create a better outlet for people who express their political opinions on social media sites, and almost more importantly an outlet for those people who don't think social media is the correct platform for that type of discourse," said founder Alex Leventis
We chose the name Rumble Debate and the logo of the boxing glove to model the symbolism of a boxing match. We understand that discussing politics can get contentious, but like boxing, there is always some mutual respect and admiration by the fighters at the conclusion of the bout. That's what we hope to replicate here.
As described in The Social Dilemma, many people fall into the trap of social media echo chambers where all they hear is one side of the argument. Rumble Debate hopes to correct this as our ultimate goal is to give our users a further understanding of different issues affecting today's world. We hope to do this by exposing them to different people with different opinions.
Choose a topic. Pick a stance. Rumble.
Available on app Store for iPhone!
Click to Download!