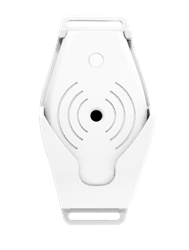 Being at the frontline of personal safety we recognised the need for a neat, discreet safety device that would appeal to multiple markets, a device that could be worn anywhere
NEW YORK (PRWEB) April 29, 2021
Answering the call for a versatile personal safety solution, Run Angel, the innovative company behind the smallest, loudest personal safety wrist wearable, run angel, have created Wing, the 'wear anywhere' safety device that can be worn on clothing, bags, belts, luggage and even on bikes.
"Wing provides an effective safety solution unlike any other product on the marketplace. At the centre of Wing is our unique patented acoustic design, a design engineered by acoustic experts. From inception, our primary focus has always been around the siren capability of our safety wearables. We believe that it is sound that saves, be it to attract attention to you in an emergency, such as an injury, or to distract an attacker in order for you to make your escape," said Ellen Caren, Founder of Run Angel.
Wing also connects with smartphone devices to send out emergency location alerts. The companion iOS & Android app allows Wing users to set up a guardian network providing peace of mind to family & friends who will be notified upon an activation by SMS & email, showing the date, time and location of the wearer.
A call for help should warrant immediate results, especially if there is a threat to your person or if you suffer injury and require help – all it takes is one press of Wing to sound the siren & send out alerts.
Wing is suitable for runners, walkers, cyclists, outdoor hobbyists, lone workers and campus students.
Key Features

Loud high-pitch siren
One-touch activated
SMS & email alerts detailing time, date & location
Rechargeable battery
Remote activate your Wing from app
Silent option (sends location only)
Patented siren & alerts technology
Wing is available from runangel.com US$99 / CA$123 incl. Free Shipping
About us
Run Angel is a safety wearable technology company with offices in Ireland & the US. Founded in 2013 by husband and wife team, David & Ellen Caren, Run Angel developed a wrist worn personal safety wearable aimed at the growing running & lifestyle market. Run Angel wearables, when activated emit a loud high-pitch siren from a unique patented acoustic chamber design. In addition to the sound function, Run Angel wearables connect with smartphone devices to send emergency alerts by SMS & email of your whereabouts.
Contact
Sarah Miller
PR & Marketing Manager 
Run Angel 
Tel: +1-844-855-1355 
sarah(at)runangel(dot)com