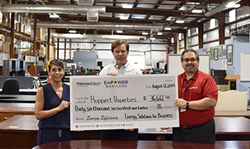 FREDERICK, Md. (PRWEB) August 22, 2019
Potomac Edison awarded Ruppert Properties with $39,600 in incentives for energy-efficient lighting upgrades at its Frederick commercial property. The program offers rebates to Maryland commercial and industrial customers for qualified upgrades to more energy-efficient products including lighting, process controls, HVAC and more.
Over 230 lighting fixtures were upgraded or replaced, bringing Ruppert nearly $20,000 in annual energy savings with a project payback of just over two years. Beyond the energy and maintenance savings, the $39,600 in incentives from Potomac Edison cut the project cost nearly in half.
Ruppert Properties recognized the opportunity to offer potential tenants a lighting package found in modern warehouses while, at the same time, increasing the sustainability of the property. Knowing first-hand the work American Energy Services (AES) had done to bring companies—both local and nationwide—significant energy savings, Ruppert called on AES to help plan out and execute the lighting retrofit.
Following the project's impressive result, Ruppert plans to continue upgrading lighting across its property portfolio to not only save its tenants money, but also to ensure that they are delivering a top-quality product that helps keep tenants safe, secure and running as efficiently as possible.
For more information about the Energy Solutions for Business Program or to apply for program incentives, visit http://www.energysavemd-business.com.
About Potomac Edison Potomac Edison, a subsidiary of FirstEnergy Corp., serves about 265,000 customers in seven Maryland counties and about 140,000 customers in the Eastern Panhandle of West Virginia. Follow Potomac Edison at potomacedison.com, on Twitter @PotomacEdison, and on Facebook at http://www.facebook.com/PotomacEdison.
EmPOWER Maryland programs are funded by a charge on your energy bill. EmPOWER programs can help you reduce your energy consumption and save you money. To learn more about EmPOWER and how you can participate, go to energysaveMD.com.