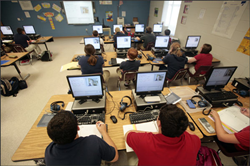 "I don't have to worry about a student not having access to high-quality instruction every single day with Proximity. That gap is already closed," King said.
MEMPHIS, Tenn. (PRWEB) January 07, 2020
Proximity Learning Inc. (PLI) is excited to announce a new partnership with Fayette County Public Schools (FCPS). Beginning with the 2019-2020 school year, PLI is providing Fayette-Ware High School, East Junior High, and West Junior High Schools with real-time live instruction teachers for 7th to 12th grade.
Across the three schools, 36 classes have been transformed into online education courses with the implementation of 18 certified online live instructors from PLI. Hundreds of Fayette County students are now receiving instruction from highly qualified online teachers.
Dr. Marlon D. King, FCPS superintendent, chose PLI as an opportunity to be innovative while increasing college readiness in his rural public schools. Online live instruction allows students to experience and interact more with technology during their k-12 schooling and, as a result, become stronger and better prepared for higher education.
"What I thought with Proximity is that we have an opportunity to engage with someone who is content-rich and who is experienced," King said. "And I think our kids would gain greater access and opportunity to learn the standards that are needed for college and careers."
King said that access to high-quality teachers and a wide range of technology is made even more difficult in rural communities, which makes it important to engage the community when adapting to this change of learning. By utilizing PLI to close this gap, FCPS can become just as competitive as urban and suburban school districts.
"I don't have to worry about a student not having access to high-quality instruction every single day with Proximity. That gap is already closed," King said. "And so when we begin to close that gap, we're able to not only close the gap in providing high-quality instruction, but close the gap in student achievement, where students in [the rural] context can still be just as successful as students in the suburban context."
King also envisions PLI as an opportunity bigger than providing students with a teacher. "It's more than just filling a seat in the classroom or recruiting teachers," he said. "It's about providing, again, high quality, strong instruction for students so that they can be successful. And when you do that, you create a stronger academic landscape in your community."
In his decision to partner with Proximity, King emphasized the importance of two of his district's core principles — optimism and service.
For King, optimism means believing that he can supply FCPS kids with better opportunities, like PLI, so they can be successful. "We were very optimistic that we can provide our kids with the same level of instruction that suburban districts [can]," King said. "So if we didn't have the optimism, I don't think that we would have even explored this option for our students."
Regarding service, King said: "This is what this work is all about. This work is about serving children, serving the community, and, in that service, making sure that we're providing the right needs for students to have access to better life options."
About Proximity Learning Inc.: Proximity Learning Inc. is an Online Education Service company catering to students ranging from kindergarten to high school. Proximity Learning has served over 150 school districts and instructs over 50,000 students annually. Proximity Learning has been rated as one of the top K-12 online education services in the nation, boasting the highest quality teachers, most innovative virtual classrooms, and the reputation as a flexible learning solution to both public and private school districts. Written by Christina Peebles. Learn more: https://proxlearn.com/.