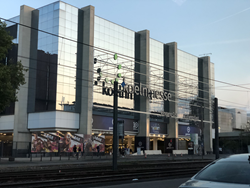 "While being part of a live performance is always a privilege, this and every tour is really all about meeting the players and fans of the music. I want to thank everyone I meet over for supporting and encouraging the continued creation of new and compelling soundtracks for the games we all love."
COLOGNE, Germany (PRWEB) August 22, 2018
Fans can watch the live stream starting on Wednesday, August 22 at 17:00 CEST/18:00 MSK/8:00AM PDT. Click here for the Blizzard-exclusive Video Games Live concert broadcast from the Blizzard Area at Koelnmesse.
Partial list of concert information for Russell Brower conducting live for Video Games Live Tour until September 30, 2018:
August 22, 2018 - Cologne, Germany Koelnmesse - Blizzard Area 6 PM - Gamescom
August 23, 2018 - Cologne, Germany Koelnmesse - Blizzard Area 6 PM - Gamescom
August 30, 2018 - Xi'An, China People's Theater - 7:30 PM
August 31, 2018 - Wuhan, China The Han Show Theater - 7:30 PM
September 1, 2018 - Chongqing, China Cutural Palace Theater - 7:30 PM
September 2, 2018 - Chengdu, China Jincheng Culture Hall - 7:30 PM
For a list of all 16 dates Russell Brower is conducting on the Video Games Live Tour click here.
Find Russell Brower on Facebook - Twitter - Instagram.
If you would like more information, or if you would like to interview Russell Brower please contact Daniel Lee at daniel@sparkicreative.org from SparkiCreative.
About Video Games Live: Video Games Live is a live experience which highlights and enhances the art and sensory experience of video games.
About Russell Brower: Russell Brower is an American music composer and three-time Emmy Award-winning sound designer who has created sounds for Tiny Toon Adventures, Animaniacs and Batman: The Animated Series, and video game music for games including Joint Operations, World of Warcraft, Starcraft II and Diablo III.
To join the conversation for this tour, please use these hashtags to connect with fans and Russell Brower: #gamescom2018 #gamescom #blizzard #videogameslive #videogameslivegermany #videogameslivechina #russellbrower
Subscribe to Blizzard's YouTube channel.
Subscribe to Video Games Live YouTube channel.