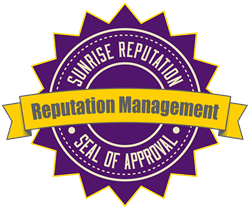 "People have short memories, but Google doesn't. If something happens to you online, people will forget within a few weeks, Google never forgets, never." - Brandon Hopkins, owner of Sunrise Reputation
Oxford, Massachusetts (PRWEB) September 02, 2013
When James Glaser, retired Air Force master sergeant and 20 year veteran, walked into Big I's restaurant in Oxford, Mass., he didn't expect to immediately get asked to leave the restaurant due to the policy of no dogs allowed at Big I's. Restaurateur Russell Ireland recognized that Glaser wasn't blind and assumed his dog was not a real service dog when Ireland told Glaser to get his, "fake service dog" out of the restaurant.*
Glaser is one of many servicemen and servicewomen who suffer from post-traumatic stress disorder (PTSD). The National Institute of Mental Health says people with PTSD, "may feel stressed or frightened even when they're no longer in danger."** In Glaser's case, the symptoms of his PTSD are lessened when he is with his service dog named Jack.
Reputation issues such as the one facing Ireland are nothing new for business owners. About one year ago Apple Inc. released iOS 6 which included a new version of Maps, this version led drivers to the wrong destination, removed Paddington Station in London, shrunk the Sears Tower in Chicago, among other goofs. Miley Cyrus has been much maligned after her performance in the VMA's and prompted the Oxford dictionary to add the word "twerk" to the dictionary which led many users to consider a switch to a dictionary such as Merriam-Webster.
Online reputation management issues such as these spread quickly with Facebook, Twitter, Tumblr and Vine. "Managing your online reputation is like a handful of sand, if there is a small crack, you'll soon be left with nothing," says Brandon Hopkins, owner of SunriseReputation.com, an online reputation management firm. Hopkins continues, "People have short memories, but Google doesn't. If something happens to you online, people will forget within a few weeks. Google never forgets. Never. Often the most negative thing about you or your business is right on the front page of Google.com and it's hurting your business or personal life. We've worked with school administrators who couldn't get a job, business owners with negative Yelp reviews left by competitors, business owners who were arrested and now their mugshot is showing up, and even a college student who was arrested because he was in the wrong place at the wrong time. These situations are very common and the only way to fight back is to bury the negative stuff. Google won't remove it for you."
For companies like Apple the abundance of news regarding the company tends to quell the negativity. Small and local businesses such as Ireland's Big I doesn't have the same luxury. Hopkins suggests that he will be dealing with this issue for years to come, "Ireland has done everything possible. He made a mistake, recognized his mistake, apologized, and is trying to move on, but that won't happen. At least not with his online reputation. 2 years from now you can search 'Russell Ireland' and you're going to find this incident. Without an active reputation management campaign, this is going to affect his business and life for many years."
For more information about managing your online reputation contact Sunrise Reputation online at http://www.sunrisereputation.com or by phone at 559-871-1613.
*Boston Globe, Diner owner apologizes for turning away veteran, service dog, retrieved 9/2/2013, http://www.bostonglobe.com/metro/2013/08/31/owner-oxford-diner-apologizes-for-turning-away-veteran-and-dog-crowd-including-vet/7kjamF8PJDrG5tKXAiOrMI/story.html
**NIMH, Post-Traumatic Stress Disorder (PTSD), retrieved 9/2/2013 from http://www.nimh.nih.gov/health/topics/post-traumatic-stress-disorder-ptsd/index.shtml