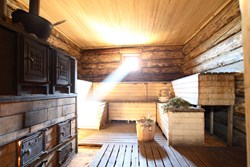 As people have become more familiar with the health benefits of Russian spas, they've become more selective in the spa products they buy.
New York, NY (PRWEB) November 21, 2013
Alexander Pushkin, the greatest Russian poet, once claimed that the Russian spa, the banya, is like "the Russian's second mother." That is because it was a treasured source of rejuvenation, warmth, and health for centuries. Indeed, in Russia, even today, sweating is often proclaimed to be a medicinal and therapeutic process. Traditional medicine affirms that everything from fatigue to skin problems, wrinkles, disease, and stress can be alleviated by visiting the banya.
Indeed, saunas have some profound health effects on the body. The major benefit is in opening up the pores that may be clogged and functioning poorly, thereby detoxifying the body and improving skin. Additionally, there is a plethora of social and psychological advantages that can be gained from regular banya sittings. Sauna accessories are used to scrub and massage the skin, and often require several people to assist each other. This is usually done with a "venik," a bunch of dried tree branches with leaves still attached that can be used to improve circulation and skin quality. This process provides families, friends, and couples with a unique and relaxing social environment, often strengthening bonds and resolving petty issues.
The Russian "banya" and the Finnish "sauna," two nearly identical heat baths, have permeated the American culture. Today, spas and health retreats have ubiquitously adopted these baths as an essential part of a healthy lifestyle. The growth of this industry has also increased the demand for high quality banya accessories. In particular, veniks, banya hats for protecting the head from high heat, and various sauna gloves, have become extremely popular. Saint-Petersburg Global Trade House, a promoter and retailer of Russian gifts and cultural products in the United States and Canada, has seen a tremendous increase in the demand for these goods over the years.
Max Bolotov, St-Petersburg GTH's Marketing Director adds,"We have seen a great response to our line of banya products, especially our high quality veniks. As people have become more familiar with the health benefits of Russian spas, they've become more selective in the spa products they buy. That is why we provide only authentic and well-priced accessories that are sure to please our clients. And that is why we are the number one on the continent when it comes to these and other products from Russia!"
About Saint Petersburg Global Trade House:
Founded in 1994, Saint Petersburg Global Trade House takes its roots in Brooklyn, NY the heart of NYCs Russian community. Saint Petersburg GTH takes great pride in the fact that it is the largest seller of Russian gifts, books, music, and movies outside Russia. The company offers products through its free colorful printed catalog, as well as operating brick-and-mortar stores in Brooklyn. The catalog is published quarterly in editions of 50,000 copies and can be requested by calling the toll-free number at 1-800-531-1037. For additional information, visit http://www.fromrussia.com.