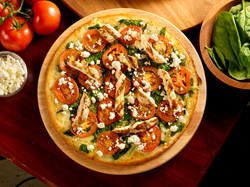 "Healthy pizza shouldn't compromise flavor, which is why we prepare our products by hand and use quality ingredients and traditional methods of cooking." - Chef Anthony Russo
HOUSTON (PRWEB) January 15, 2019
Russo's New York Pizzeria, the global franchise chain known for its authentic New York style pizza and classic Italian fare, invites guests to embark on a savory culinary experience with its newest limited time offer: Kale Krust.
Head Chef and Founder Anthony Russo's latest wholesome creation incorporates a delectable, gourmet pizza crust packed with hidden veggies using fresh, organic kale.
"We use premium flour and Sicilian extra virgin olive oil," said Chef Russo, the creative mastermind behind Russo's New York Pizzeria. "This unique crust packs the nutrients and benefits of Kale into a delectable, flavorful crust that kids—and parents—love! It's a great way to get kids to enjoy eating fresh vegetables and kale."
Russo's Kale Krust pizza is made to order with guests' favorite toppings and baked to perfection in a 500 degree brick oven. Chef Anthony Russo is proud to offer this top-of-the-line pizza crust with fresh, premium, high-quality ingredients. Chef Anthony Russo's Kale Krust contains no additives, preservatives, artificial flavors, nitrates, rSBT or rennet. "If it isn't fresh, don't serve it." That's the Russo family promise since 1978.
"Healthy pizza shouldn't compromise flavor, which is why we prepare our products by hand and use quality ingredients and traditional methods of cooking." said Russo.
Russo's Kale Krust was perfected over a span of six months in Chef Anthony's private kitchen, which included crafting a great tasting authentic, New York-style crust that is unmatched in quality. In addition to the Kale Krust, the 49-location global restaurant chain has launched a new, delectable specialty menu item: La Dolce Vita Pizza.
La Dolce Vita Pizza – Grilled chicken, Gorgonzola Cheese, Roma Tomatoes, Spinach, Red Onions, Wisconsin Mozzarella, Garlic, and Sicilian extra virgin olive oil.
There's no doubt Russo's is passionate about menu innovation. In addition to La Dolce Vita Pizza, Russo's also offers these popular menu items:
Gluten Free Pasta Primavera – Gluten-free penne pasta with roasted cauliflower, Roma tomatoes, Portabella mushrooms, feta cheese, fresh kale, zucchini, pine nuts, Sicilian extra virgin olive oil garlic sauce and fresh basil.
Prosciutto & Fig Pizza – Prosciutto di Parma, arugula, basil, fig spread, Sicilian extra virgin olive oil, Wisconsin mozzarella and balsamic glaze.
Truffle Mushroom Pizza – Fresh portabella mushrooms, Wisconsin mozzarella and truffle mushroom olive oil sauce, topped with fresh arugula.
Russo's hand rolls and proofs its pizza dough fresh each day and only uses flour that doesn't contain any additives or preservatives. The restaurant makes its signature sauces fresh, in-house, and only uses the finest, premium ingredients. Russo's incorporates vine ripened tomatoes from California, olive oil imported from Sicily, and authentic Italian spices in its signature sauces. A selection of gluten-free pastas and pizzas are also available.
About Russo's New York Pizzeria
Russo's Restaurants is a national and international franchisor of the casual dining brand Russo's New York Pizzeria. Based in Houston, Russo's Restaurants is composed of a mix of corporate and franchised locations across Texas, Oklahoma, Tennessee, and Florida. Russo's has entered international markets as well, with locations in the United Arab Emirates and Saudi Arabia. Chef Anthony Russo created Russo's Restaurants by applying his unique, family recipes featuring New York-style pizza, handcrafted pasta dishes, calzones, salads, sandwiches, soups and desserts. At its heart, Russo's Restaurants reflects Chef Anthony's commitment to his New York roots where food and family come first. To learn more about Russo's franchise development opportunities, visit https://nypizzeria.com/franchise/.
###