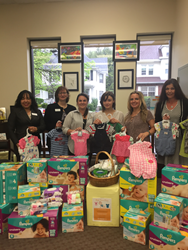 Rutherford, NJ (PRWEB) May 10, 2017
The Rutherford Office of Kearny Bank recently held a local baby item drive. The collected items will be donated to Rutherford's Social Services Department and given out to local residents in need.
"This office has a long-standing tradition of giving back to our local community. Organizing food, clothes or baby item drives is an important part of it," Ana Villalona, Assistant VP & Rutherford's Branch Manager said. "However, we could not be successful without the generosity and kindness of our customers and employees who deserve our gratitude," Villalona added.
Kearny Bank, a federally-chartered stock savings bank, has supported the communities it serves since 1884. The Bank has assets of $ 4.8 billion and operates 42 full-service banking offices in Northern and Central New Jersey and Brooklyn and Staten Island, New York.