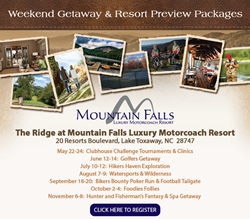 "...We would like to see Mountain Falls become a significant catalyst in the discovery of the areas offerings, contributing to the local communities, and ensuring their ability to thrive year round,"
Lake Toxaway, NC (PRWEB) March 31, 2015
Mountain Falls Luxury Motorcoach Resort will host Weekend Getaway & Resort Previews once a month beginning May through November 2015, the first preview occurring May 22-24, 2015. Each Getaway will educate the guest on area attractions, including Gorges State Park, nearby waterfalls, golf courses, local fine dining establishments, hiking trails, lakes and streams while leveraging the resorts newest amenity offerings.
The feedback received from past guests indicated a lack of awareness of the local area attractions, natural beauty, outdoor adventure and the extended length of season the Western Carolina Mountains offer in terms of climate.
"Tourism revenue provides the largest percentage of income to the nearby local communities, yet the area remains a well-kept secret. We would like to see Mountain Falls become a significant catalyst in the discovery of the areas offerings, contributing to the local communities, and ensuring their ability to thrive year round," said Marie Duginski, Mountain Falls Partner responsible for Marketing.
For more information about Mountain Falls Luxury Motorcoach Resort and the Weekend Getaway & Resort Preview packages please visit the website http://www.mountain-falls.com/getaway, call (828) 966-9350, or email info(at)mountain-falls(dot)com. Stay updated on the resort's latest news and announcements by visiting their website,or by following their Facebook and Twitter pages. Mountain Falls is located at 20 Resorts Blvd., Lake Toxaway, NC 28747.
About Mountain Falls Partners, LLC:
Mountain Falls Partners, LLC is a North Carolina Company formed in 2012 for the
marketing and development of luxury motor coach resorts. It is a collaboration of
award winning partners with over 35 years of experience in their said area of expertise:
architecture and design, community and luxury development and luxury services and
resort marketing.