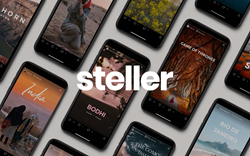 KIRKLAND, Wash. (PRWEB) March 17, 2020
Steller.co, the world's largest storytelling platform and community designed for the modern traveler, today announced that Ryan Hodgson is joining the company as VP of Marketing. In this role, Hodgson will drive the vision and execution of Steller's strategic marketing and growth initiatives. Hodgson brings 20 years of strategic and growth marketing experience to Steller having been a senior leader at agencies such as Yesler and Weber Shandwick. He has delivered marketing strategy and executions for globally recognized brands that include Amazon, Microsoft, the Project Management Institute, HTC, Verizon Wireless, SAP, and Ricoh. Most recently Hodgson was the COO at Realogics Sotheby's International Realty where in addition to operations he led in-house marketing teams supporting that $1.6B business.
"We couldn't be more excited to have Ryan join the Steller team." Says Scott Greenberg, Steller Co-Founder and COO. "His passion for travel, content creation, and experience as a social media influencer combined with his strategic marketing expertise is a perfect fit for leading our growth initiatives."
Bringing First Person Experience As a Content Creator and Travel Influencer to Steller
Originally from Perth, Australia, Ryan has always had a passion for travel and photography. He combined these passions to become a sought-after travel influencer. He has traveled the globe partnering with airlines, tour operators, adventure companies, outdoor retailers, resorts and tourism boards. Ryan's experience as a content creator and influencer brings to Steller a first-person perspective and understanding of how content creators and influencers leverage social media and content creation platforms.
"It's a particularly exciting move for me because this role combines my love of travel and storytelling with my deep experience in marketing and communications." Says Hodgson. "I'm passionate about what Steller is all about... a platform that celebrates travel related content creators and community. As a travel influencer I know the space is ready for disruption and I believe Steller is the platform to do that."
About Steller:
Steller is the world's largest travel storytelling platform and community designed for today's mobile-first travelers. Steller lets everyone capture and share personal stories with expressive and elegant design, simply and conveniently on their mobile device or via the web at http://www.steller.co.