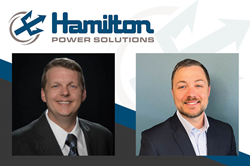 "Ryan brings a unique skillset that's a blend of technical expertise, sales professionalism and operational excellence in the engine business to Hamilton. We are lucky to have him and excited to be able to continue the growth of Hamilton's unique value-add to the industry and our customers."
SUN PRAIRIE, Wis. (PRWEB) February 07, 2023
Hamilton Power Solutions is proud to welcome Ryan Manthei to our team as VP of Sales. Ryan brings over 20 years of engine industry experience including time in engineering, sales and leadership, and over 15 years at Cummins. He will lead our sales & business development efforts.
"Ryan brings a unique skillset that's a blend of technical expertise, sales professionalism and operational excellence in the engine business to Hamilton. We are lucky to have him and excited to be able to continue the growth of Hamilton's unique value-add to the industry and our customers." - Brad Borchers, President
Hamilton Power Solutions is also excited to announce the promotion of Josh Spitza to VP of Operations. Josh has spent the last 6 years as part of the Palmer Johnson Enterprise family building our engineering systems, team and capabilities while more recently helping launch Hamilton's engine business in the Midwest and grow our engineering footprint in support of our value-add engine distribution strategy. His primary focus will be aligning operations activities across our facilities and products.
"Josh's background in engineering and manufacturing has proven to be instrumental in the development of Hamilton's value-add engine distribution strategy. We are excited to support the growth of his career as we strive for operational excellence." - Brad Borchers, President
About Palmer Johnson Enterprises:
Four Companies, One Community: Powered By Service
Headquartered in Sun Prairie, WI, Palmer Johnson Enterprises (PJE) is family-owned with a passion for growing its people and giving back to the community. The strong team at Palmer Johnson Enterprises spans four companies: Palmer Johnson Enterprises, Palmer Johnson Power Systems, Hamilton Power Solutions, & Alterra Power Systems, all serving the off-highway market with powertrain and engine solutions. We're a passionate company focused on two core objectives: making our community of companies a great place to work and providing customers with unmatched, world-class service.
About Hamilton Power Solutions:
Hamilton Power Solutions was founded in 1954 as Hamilton Engine Sales with over 60 years of experience applying engines to any application requiring a turning shaft. In 2022 Hamilton Engine merged operations with Trident Engineered Solutions to become Hamilton Power Solutions. The name change was made to better reflect the total scope of Hamilton's prime-mover agnostic, complete drivetrain solutions strategy.
With the infusion of the Trident team and distributor-level access to various drivetrain components, Hamilton Power Solutions provides comprehensive sales, service & engineering support at a level unmatched by our peers in the industry. Hamilton Power Solutions is a trusted distributor of Deutz, Isuzu, and Scania diesel engines. We sell and customize engines for any industrial application you can imagine. Our heavy-duty solutions provide reliable, efficient performance - sold and serviced by our staff of experienced engine experts. Markets include agricultural, construction, material handling, pump/irrigation, forestry, and mining. Applications include compressors, welders, forklifts, rock crushers, portable sawmills, airport ground support, construction machinery, hydraulic power units, aggregate screening plants, asphalt preservation, fire pumps and more.