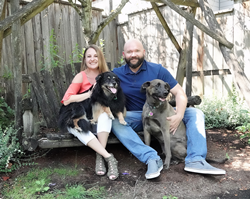 We joined Pet Wants because we absolutely love our two dogs – Jake and Ellie – and care about their nutritional needs. We are animal lovers at heart and want to be centered in a business that serves our community, our customers and their pets, too. - Jennifer Hope
SCAPPOOSE, Ore. (PRWEB) August 06, 2020
Local couple Ryan Oller and Jennifer Hope are pleased to announce the launch of their new nutrition- and quality-focused pet supplies business – Pet Wants Scappoose.
Pet Wants' specially-crafted, private-label pet food formulas are made in small batches with fresh, natural ingredients enhanced with vitamins and minerals for a complete and balanced diet in every bowl. Pet Wants Scappoose has multiple blends of dog and cat food formulas as well as healing salve, calming balm, anti-itch spray, paw wax, homemade treats and chews, and more. Pet Wants Scappoose offers free, personal delivery to Forest Grove, Scappoose, St. Helens, Longview, Ridgefield and the surrounding areas.
"We joined Pet Wants because we absolutely love our two dogs – Jake and Ellie – and care about their nutritional needs. We are animal lovers at heart and want to be centered in a business that serves our community, our customers and their pets, too," Jennifer said. "We wanted people to have easy access to fresh, high-quality pet supplies and the option to pursue a holistic approach to their pets' wellbeing."
Pet Wants has a money-back guarantee on the freshness and quality of the food and the company only sources the best salmon, chicken, lamb, brown rice and other ingredients available. There's no sugar added, no fillers and no animal by-products and Pet Wants never uses corn, wheat, soy or dyes, which makes the food great for animals with allergies.
Ryan and Jennifer met in junior high, went on one date in high school and then rekindled their relationship at their 20 year high school reunion. They are engaged to be married and they have one son, Sebastian. Ryan comes from a sales management background focused on business development in the greater Seattle area, and specialized in selling meat and seafood all over the world. Jennifer has an extensive background in office management in the radio industry, as well as the window covering industry. Both Ryan and Jennifer worked for a small, locally owned family business before deciding to start their own.
"We went into business for ourselves after running Jennifer's family's business together and realized that the skills and strengths we have together would be better served in starting our own business. Running a business together in an industry that we love is the future we want to have and we can't wait to serve our community in a new way," Ryan said.
To learn more about Pet Wants Scappoose, call 503-987-1686, email ROller@PetWants.com or visit https://www.petwants.com/scappoose/.