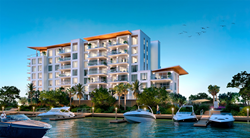 Serena by the Sea is the latest community property from Valor Capital. The attention of high-profile celebrities at the upcoming first broker event marks the hallmark of the property itself—an ideal blend of contemporary design and state-of-the-art technologies mid-COVID-19.
CLEARWATER, Fla. (PRWEB) February 24, 2021
Real estate brokers are invited to attend the reveal of Serena by the Sea, a new $70 million, 80-unit boutique seven-story condominium development to be located in Clearwater/Dunedin, FL overlooking the Gulf of Mexico. The event will be held at the nearby Capitol Theatre on March 5th at 5pm; showtime of the state-of-art Sales Gallery beginning at 6pm. The event has already drawn some high-profile attendees; among them Ryan Serhant, celebrity real estate broker and star of two series airing on the Bravo network: Million Dollar Listing New York and Sell It Like Serhant.
Serhant, who just published the book Big Money Energy, recently sold the most expensive home ever sold in Florida to a mystery Russian buyer for nearly $140 million in cash. This transaction comes on the heels of him selling the most expensive condo, a $33 million penthouse at Miami's Arte Surfeside (where Ivanka Trump and Jared Kushner are currently renting).(1)
Serena by the Sea is the latest community property from Valor Capital, a Florida-based development firm headquartered in Clearwater. The attention of high-profile celebrities at the upcoming first broker event marks the hallmark of the property itself—an ideal blend of contemporary design and state-of-the-art technologies mid-COVID, and where Florida has seen, and is continuing to see, exponential growth in the luxury market.(2)
"We saw very early into the pandemic that our clients' priorities had expanded beyond luxury. Understandably, ensuring their health and well-being in community living spaces would be held to unprecedented levels," said Robert Palmer, Digital Marketing Strategist at Valor Capital.
Valor Capital immediately went to work not only developing striking new architectural designs that reflected the new reality, but also seamlessly meld abundant amenities, 23,000 square feet of them, with world-class technologies to ensure future resident's health and well-being. On March 5, brokers will be the first in the world to see for themselves the new standard set for the luxury residence lifestyle.
Among the many new innovations every resident of Serena by the Sea will benefit from include state-of-the-art air intake and water filtration systems, UV disinfecting lights, and touchless door entry systems. But the crown jewel of Serena by the Sea can be found in the condos themselves. Floorplans feature open layouts, oversized terraces, glass balconies, and magnificent waterfront and surrounding views. All interiors feature materials chosen by award-winning designers to evoke balance and luxury, while color palettes have been selected to remind one of the beaches and sun.
"Not only is our community designed around the best in safety and security," Regina Sotomayor, Valor Capital's COO says. "We do so via magnificent common and private spaces that truly encompass what living well is all about."
Over the last 35 years, Valor Capital and its partners have developed over one billion dollars in properties around the world including condominium towers, residential lots, golf courses and shopping centers. Their Florida division is currently centered on the Tampa Bay area, namely Clearwater, where they have done other projects such as the Skyview, a 36-unit boutique condominium development in the heart of downtown Clearwater.
Valor Capital is especially proud of Serena by the Sea, the first community of its kind to be developed for our COVID-19 reality and beyond.
The Reveal of Serena by the Sea will be held:
March 5, 2021 at The Capitol Theatre
405 Cleveland Street
Clearwater, FL
Cocktail hour begins at 5:00 pm
Showtime starts at 6:00 pm
Valet parking will be provided.
Broker Guests can RSVP Here.
https://www.eventcreate.com/e/serenabythesea
Also appearing is Florida's Chef of the Year Bob Aungst, who will be hosting a champagne reception in Serena's Model Kitchen. A former real estate broker himself and now handcrafted culinary expert, Bob Aungst has served four U.S. Presidents, multiple political leaders, and numerous members of royal courts and political leaders.
About Serena by the Sea
Valor Capital's newest resort-style, waterfront condominium development, Serena by the Sea offers relaxed, luxury living where its residents enhance their lives, find solace from the confusion and difficulties of daily life, refresh and prepare to conquer life once again. Serena by the Sea is where one can truly pause and appreciate all that they have achieved. Visit http://www.serenabythesea.com
About Ryan Serhant
Ryan Serhant is a real estate broker, CEO, and founder of SERHANT, a vertically integrated mega brokerage comprising an in-house film studio, education arm, marketing division, and technology platform. SERHANT is the most-followed brand in real estate, a distinction Ryan's earned by pioneering how real estate is sold using traditional and social media. Over the course of his career, Ryan has sold over $4 billion in real estate and is known for breaking market records.
About Valor Capital
Valor Capital is a subsidiary of Terra Capital Partners SA de CV (Terra Capital Partners). Terra Capital Partners has been in operation for over 15 years (while its main partner has over 30 years of experience) and is the parent company of several sub-companies and investment funds that each have a specialization in different aspects of the real estate business (shopping malls, corporate offices, residential buildings, and land development. To learn more, visit http://www.valorc.com
1. Siegler, Mara. "Mystery Russian Bought Most Expensive Florida Home for $140M in Cash." New York Post, New York Post, 10 Feb. 2021, nypost.com/2021/02/10/mystery-russian-bought-most-expensive-florida-home-for-140m-cash/.
2. Frazier, Liz. "Luxury Home Sales Continue To Surge Into 2021." Forbes, Forbes Magazine, 10 Feb. 2021, forbes.com/sites/lizfrazierpeck/2021/02/10/luxury-home-sales-continue-to-surge-into-2021/?sh=6f52a6302be5.