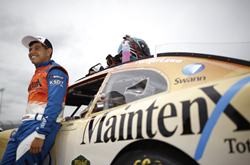 "Our whole team is proud of Ryan and the great impact he's made in his rookie campaign," said MaintenX VP of Business Development Bill Schaphorst. "We look forward to seeing him zoom to even greater heights in the MaintenX orange and blue!"
TAMPA, Fla. (PRWEB) June 23, 2021
MaintenX International proudly sponsored NASCAR Xfinity Series driver #6 Ryan Vargas as he achieved a solid 18th-place finish at the Tennessee Lottery 250 at the Nashville Superspeedway. Vargas and the JD Motorsports with Gary Keller team will look to build on Nashville's performance at the Pocono Green 225 on June 27th.
Kyle Busch won the race after leading 122 out of 189 laps.
"Our whole team is proud of Ryan and the great impact he's made in his rookie campaign," said MaintenX VP of Business Development Bill Schaphorst. "We look forward to seeing him zoom to even greater heights in the MaintenX orange and blue!"
Vargas's performance leaves him at 24th out of 63 in the NASCAR Xfinity Series standings.
MaintenX supports its own team just as strongly as it supports Ryan, with competitive salaries, great benefits, and a fun workplace culture. To learn more about their many open positions, visit https://maintenx.com/career-opportunities/.
ABOUT MAINTENX INTERNATIONAL:
MaintenX International is a fully licensed, facilities repair company. As one of the largest national self-performing facility maintenance and repair companies in the U.S., MaintenX has created a wide network of knowledgeable and professional technicians throughout the country. With their team of well-trained technicians, MaintenX self-performs and manages facility maintenance for their clients. In the event there is not a MaintenX technician in an area, the company has established a network of preferred vendor partners throughout the country for continued superior service for their clients. For more than 40 years, MaintenX has been expertly serving multi-location retail stores, restaurant chains and Fortune 500 companies nationwide.