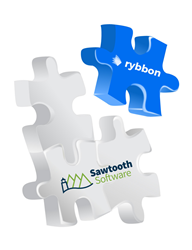 Our software integrates to improve the value of their surveys and data analysis.
MCLEAN, Va. (PRWEB) March 03, 2020
Rybbon, a digital rewards platform, announced today a partnership with Sawtooth Software, a premier provider of survey software tools specializing in conjoint analysis and MaxDiff. The new collaboration helps increase data collection for Sawtooth's client base by increasing response rates from respondents by offering gift rewards.
Rybbon's integration for digital rewards enhances Sawtooth's decades of experience in quantifying preference and choice modeling. Sawtooth's choice to partner with Rybbon will provide clients with greater depth and breadth of data when partnered with Rybbon's reward programs. Customers will eliminate the need to manage incentives by hand with an easy-to-use, automated, and self-run survey rewards system.
Rybbon's rewards integration with the Sawtooth Software platform simplifies and expedites the reward fulfillment process. Users can offer survey respondents a wide selection of eGift cards, Visa and Mastercard Prepaid cards, and charitable donations with all communication aligned to customer branding.
Sawtooth Software clients will also benefit from 100% refunds on all unclaimed rewards with up-to-the-minute status on respondents, reward choices, delivery, and reward claims. The rewards process is automatic and preserves response anonymity. By adding incentives to their survey programs, Sawtooth customers can boost response rates, thus increasing the quality of data they need.
"We are pleased to partner with Sawtooth Software," said Rybbon's CEO, Jignesh Shah. "Our software integrates to improve the value of their surveys and data analysis." Justin Luster, Director of Product Management at Sawtooth agrees, "This simplifies our reward fulfillment so we can focus our energy on providing even higher levels of client satisfaction with our choice analysis software."
About Rybbon
Rybbon puts the power of rewards to work for marketers and market researchers through its extensive catalog of e-gifts from top brands like Amazon.com and Panera. Rybbon also offers rewards suitable for international rewards programs such as Visa and Mastercard Prepaid card rewards that work in over 150 countries. Rybbon integrates with top marketing platforms like HubSpot, Marketo, Qualtrics, SurveyMonkey and Talkable to make gifting easy and automatic.
Learn more about Rybbon at http://www.rybbon.net.
About Sawtooth Software
Sawtooth Software provides advanced analytics and insights through conjoint analysis of survey responses. Their insights assist organizations in understanding their customers' preferences when given multiple choices. They provide survey platforms, consulting, and educational services.
Get started using Sawtooth Software at https://www.sawtoothsoftware.com/.