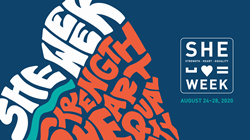 "S.H.E. Week 2020 gives us an opportunity to celebrate resilient women, fill our toolbox with new ideas and strategies, and prepare for the uncertainty that lies ahead." - Rick Weldon, President/CEO, Frederick County Chamber of Commerce
FREDERICK, Md. (PRWEB) July 30, 2020
The Frederick County Chamber of Commerce is thrilled to announce the launch of this year's S.H.E. Week, a week of virtual events celebrating the Strength, Heart and Equality of women in Frederick County.
This year's event, being held August 24-28, also revolves around the concept of resiliency and commemorates the 100th anniversary of the 19th amendment granting women the right to vote.
"All of the things we value, all of the aspects of life we've taken for granted, have been turned upside down or altered," said Chamber President/CEO Rick Weldon. "Many of these changes are so dramatic that each of us has had to adjust and adapt at home, at work and at play. We've never needed to embrace resilience the way 2020 requires, yet women throughout Frederick County have done just that. S.H.E. Week 2020 gives us an opportunity to celebrate resilient women, fill our toolbox with new ideas and strategies, and prepare for the uncertainty that lies ahead."
"Last year we were blown away by the response to our inaugural event. Our committee members have worked tirelessly to exceed expectations. The 2020 line-up is filled with engaging topics, powerful speakers and valuable information that women from all backgrounds can use in their careers and overall life," said Jennifer Gerlock, vice president of marketing and communication at the Chamber. "S.H.E. Week will be celebrating women's equality day with a special program about the 100th Anniversary of Women's Right to Vote."
S.H.E. WEEK EVENTS ARE AS FOLLOWS:
LIVE EVENTS
Monday, August 24
(S)heroes and Stories: Using Your Voice to Change the Narrative and Inspire Others to Action
Time: 7:30 a.m. (Virtual Coffee Chat & Welcome from Yumi Hogan, First Lady of Maryland)
Time: 8-9:30 a.m. (Workshop)
In this engaging and entertaining presentation, Julie Gaver will demonstrate why storytelling continues to be one of the most powerful forms of communication. Learn how to create your personal narrative in order to better persuade, inspire and educate others. You'll come away with useful tips and strategies to help you not only find your own (s)hero, but better share her with the world!
Instructor: Julie Gaver, Owner | Julie Gaver Discovery
Tuesday, August 25
Life Lessons from Unstoppable Women
Time: 5-7 p.m.
With honesty, wit and a little bit of sass, this panel of unstoppable women share their life experiences and the lessons they've learned along the way. They address challenges from climbing the career ladder and finding inner fulfilment, to forging authentic relationships and overcoming life's setbacks. Each of these impressive professionals has a tale to tell and an experience to share. Empowering, engaging and unapologetically impassioned, their incisive observations will make you think, reflect and motivate you to tackle whatever life sends your way! This session will include time for a Q& A afterwards.
Guests:
Crystal Maguire | Winsupply of Frederick
Dr. Denise Rollins | Whole Heart Grief & Life Resource Center
Jessica Underwood | JR Capital Build
Dr. Andrea Chapdelaine | Hood College
Moderator: Amber Smith | Frederick Lifestyle Magazine | S.H.E. Week Committee Member
Wednesday, August 26 (Women's Equality Day)
Women's Equality Day: Reflecting on the 100th Anniversary of Women's Right to Vote and Discussing the Mountains Left to Climb
Time: 4:30-5:30 p.m.
2020 marks the 100-year anniversary of the 19th Amendment which granted women the constitutional right to vote. Trailblazing women have held government positions at the local, state, and national level; however, women still only make up 25% or less of the U.S. Senate and the House, and those numbers are even lower for women of color.
This lively panel will cover the past, present and future of women's role in politics, and also discuss the importance of local participation. Even if you never plan to run for office, everyone will leave this event with ideas for how to get involved, from big to small.
Guests:
Dr. Stephanie Slocum-Schaffer | Political Science & Gender Studies Professor at Shepherd University
Betty Mayfield | League of Women Voters Frederick Chapter
Moderator: Rachael Pashkevich Koontz | Thermo Fisher Scientific | Women in Business Co-Chair
Thursday, August 27
Women of Color: Stories of Resilience
Time: 11 a.m.-1 p.m.
Moderated by April Lee, this panel discussion engages three women, Dr. C. Yvonne Smith, Piper Crawford and Sue Hough, each of whom will share their personal stories and struggles as a woman of color in the business world. Each has their own unique tale of bravery, vulnerability and resilience and that will challenge, educate and inspire you through their words. This session will include time for a Q& A afterwards.
Guests:
Dr. C. Yvonne Smith | Wake Integrated Psychological Services
Piper Crawford | JKW Beauty Boutique
Sue Hough | Octavo Designs | Women in Business Committee Member
Moderator: April Lee | Lee Building Maintenance
Friday, August 28
Next Steps: Develop a PR Roadmap to Expand Your Reach
Time: 8:30-9:30 a.m.
Your challenges and setbacks are not mistakes — they are part of your story! Through sharing your stories of resilience, you can inspire and motivate others. So how do you get yourself out there? In this talk, Sandy Dubay Sponaugle will provide PR tips to help both individuals and businesses find their message, audience and platforms…so they can create an exciting next chapter! This session will include time for a Q& A after the presentation.
Instructor: Sandy Dubay Sponaugle, CEO/Founder | Platinum PR
VIP Happy Hour Wrap Up
Time: 4-5:30 p.m.
This exclusive networking celebration event is available only to our VIP ticket holders, sponsors and speakers. We'll wrap up the week with opportunities to mingle as well as discuss key lessons and take-aways from our sessions. (Not to mention play a few games and win prizes!)
PRE-RECORDED EVENTS
Taking the Leap: Steps for Launching Your Own Business
Hear from Amanda Haddaway, local business owner and human resources expert, about her entrepreneurial journey and some steps you can take if you're thinking about leaping into building a small business. During the session, you'll learn about:

The state of women-owned businesses in the U.S. right now, and
The SNAPS method with actionable steps you can take now prior to launch and once you're up and running.
Instructor: Amanda Haddaway | HR Answerbox
Nourishing Roots for Resiliency
In nature, trees develop deeper and stronger roots from the wind (resistance). Like the trees, the struggles and resistance we experience in life make us stronger and more resilient. We can nourish and support our resiliency by implementing simple techniques and tools that help support healing, growth, sustaining a healthy body and mind. Using a "holistic" approach (mind, body, spirit and heart), Holistic Health Coach Kim Wilson will share tools and tips for getting back to the roots of a healthy lifestyle for improved health and wellbeing while supporting your own beautiful bio-individuality.
Instructor: Kim Wilson | Farm Girl Fuel | S.H.E. Week Committee Member
Power in the Pivot
In this presentation, we'll cover how you can go from exhausted, anxious, and consumed by fear to having a peaceful and thriving life and business by pivoting and taking your powerback. You'll learn how to reclaim four key areas of your life including your voice, your energy, your finances, and your business.
Instructor: Laura Wallace | Worx Graphic Design
In addition to the live and pre-recorded sessions, interviews on various topics will also be offered as part of the programming and delivered digitally.
Options for participation in S.H.E. Week include bundles (VIP and regular access) as well as individual session attendance. VIP and regular access admissions include an exclusive workbook pdf and private Facebook group for further content delivery, discussion and participant interaction. All live sessions will be recorded and delivered to participants via the Facebook group immediately following the presentation.
VIP event registration ranges from $45-65 with regular event access between $35 and $65. Single session registrations are available as well. Sponsorship opportunities for the week exist and can be accessed by contacting Jennifer Gerlock at jgerlock@frederickchamber.org.
Registration is open at frederickchamber.org/she-week
S.H.E. Week 2020 is brought to you by the Frederick County Chamber of Commerce's S.H.E. Week and Women in Business Committees, with support by our title sponsor FCB Bank, a division of ANCB Bank along with Warthern Team of Real Estate Teams, Ellen Keyser Homes, Lawyers Signature Settlements, LLC, AMI Signs, Edgewater Federal Solutions, Inc, Northwestern Mutual, Fairway Independent Mortgage Corporation, Peace of Mind Pets MD, BKG Media and Promotions, Girls on the Run Mid and Western Maryland, Neely Coaching and Training, Support Unlimited, Inc., and Fox Mountain Property Inspections.
The Frederick County Chamber of Commerce's Women in Business Committee's mission is to empower and develop women through education, networking, mentoring and partnerships and to promote opportunities for all women throughout Frederick County. Women in Business Committee members develop programs that provide opportunities for women to learn and network as well as share their expertise with each other and to address the unique issues of women in business.